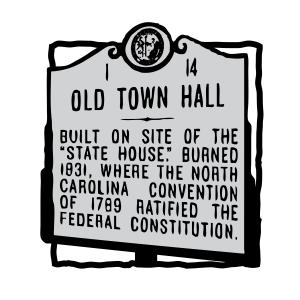 A visit to America's hometown would not be complete without admiring and exploring the architectural treasures of the area. The story of the development of this historical area can be told through the structures built long ago, but still stand proudly today. As you follow this trail, you will encounter early structures built during the 1780s and many more from the 1800s and early 1900s.
The Fayetteville area, with its proximity to the Cape Fear River, was an early trading and commercial center. The early commercial buildings were part of Liberty Row and served as a place for craftsmen's shops. In the 1780s and 1790s, more commercial buildings including Cool Spring Tavern and The State House were constructed. The State House existed at the location of today's Market House and was constructed in 1789, in time to house North Carolina's ratification of the U.S. Constitution and subsequent notable events. Expansion west in the city occurred in the late 18th century as the Historic Haymount area was developed.
Haymount, overlooking the town center, is one of the oldest, intact residential areas. Major national architectural styles are all represented here, such as Federal, Greek Revival, Victorian, Colonial Revival, and bungalows. Disaster struck when the Great Fire of 1831 leveled much of what the early town had created, destroying over 600 structures including churches, commercial buildings, homes, and the State House. Immediately following the fire, reconstruction began to replace much of what was lost and the Market House replaced the State House. Around 1890 to 1900, a stately Victorian neighborhood sprang up along Person Street, one of its remaining structures is the Sedberry Holmes house. In the 1920s, numerous commercial structures were built downtown including the Prince Charles Hotel.
As the population grew, another type of commercial development occurred during the 1970s, with the addition of large shopping centers. Fayetteville's commercial development then sprawled out of the downtown core. In 1999, Fayetteville's Historic Downtown District was designated in the National Register of Historic Places, which became a major milestone in the downtown revitalization effort.
As you visit these and other locations on the trail, try to imagine the period in which they were built and travel back in time to life before modern economic development.
Sites of interest on this trail may be classified in one of three ways: Open to the Public - The site is open to the public for a visit during their operating hours. By Appointment Only - The site is available to visitors anytime by viewing it from the exterior or by calling ahead and making an appointment with its administrators for the site to be opened during your visit. Exterior View Only - The site may only be viewed from the exterior for a visit. 
These trail destinations are not necessarily listed in any particular navigable order and may be visited individually.