Long known for being a gateway community to Fort Liberty, the Town of Spring Lake now offers folks plenty of other reasons to visit. Travelers will find the heart of Spring Lake at the busy intersection of NC 24-87 and NC-210, and this town is also conveniently accessible to I-95 travelers, thanks to the recently constructed I-295.
You simply cannot visit the Spring Lake area without spending some time exploring and playing in the great outdoors. James Stillman Rockefeller, of Rockefeller family fame, once used his Long Valley Farm here as a winter retreat. Now that family's farm, buildings, gristmill, and even home all belong to Carvers Creek State Park, a draw for tourists interested in exploring both nature and history.
Down the road from the park, you will find the Fort Liberty Clay Target Center, surrounded by scenic woods. Rent or purchase all necessary equipment onsite at one of the largest clay target centers in North Carolina. Then it is time to let the friendly competition begin.
If you are comfortable on the water and love outdoor adventures, Spring Lake Outpost is the place for you. Bring your own watercraft or pay a little extra to rent one of theirs. Then hit the water for a three- or six-mile trek down the Lower Little River.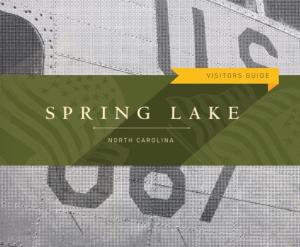 There are some days when recreation has to happen indoors in the South. MegaPlay offers the perfect place for traveling families to let their kids run off their energy. Inside, there is a multi-level play structure with a variety of activities for the kids to enjoy.
Spring Lake is also known for its niche eateries. Here you will find New York-style pizza at Brooklyn Pizzeria, good ole Southern BBQ at Noble Meats, authentic Thai cuisine at Thai-Esan Restaurant, street tacos at Armored Tacos & Grill, and plenty of other tasty options.
There is a total of six hotels/motels in Spring Lake, and they are all conveniently positioned off the main thoroughfares. In the Spring Lake Visitors Guide, peruse a comprehensive list of all the recreation, dining, history, accommodations, and more to be found here in this welcoming town.