History
By the mid-to-late 1700s, a large sawmill had been built along Little Rockfish Creek. There is evidence that gristmills, sawmills, lumber camps, and pottery ovens existed along the banks of the creek.
Little Rockfish Creek
In 1789, the first permanent settlement was organized on Little Rockfish Creek. By 1830, the cotton industry had begun developing in the South. In 1839 the first cotton factory on Little Rockfish Creek ' Rockfish Factory – was completed. By the mid-1840s, this factory was the largest cotton mill in North Carolina in terms of capital investment and the value of production.
Bluff Mill
In 1841 a mill was constructed on Beaver Creek, about one and a half miles northwest of Rockfish. This mill was known as the Bluff Mill as it was located at a bluff near the intersection of what is now Camden and Hope Mills Road. As the textile industry flourished, so did the Rockfish Factory village, with a company store and rows of houses built for the families of those who worked in the cotton mills. With the advent of the Civil War, General William T. Sherman's troops burned eight cotton mills in Cumberland County, including the Rockfish Factory, in March 1865. In their haste to depart from an approaching cavalry, the Bluff Mill was spared. However, many dwellings, as well as bridges, were destroyed throughout the county.
Rockfish Manufacturing Company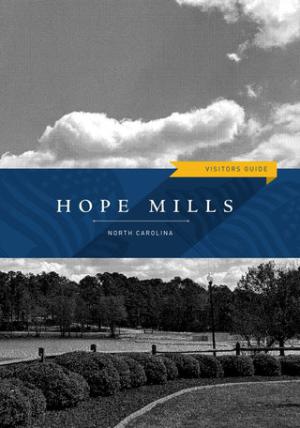 By 1868, the Bluff Mill was back in operation. However, the Rockfish Factory property, including the Rockfish village property owned by the mill, was sold in 1871 to a private investor. A year later, the property was sold back to a newly-incorporated Rockfish Manufacturing Company.
The Hope Mill
After much rebuilding, renovation, and replacement of machinery, the mill was re-opened in 1872 and became known as the Hope Mill. In 1885 the name of the settlement on Rockfish Creek was officially changed to Hope Mills.
Incorporation & First Mayor
By 1890, the village of Hope Mills was the second-largest community in Cumberland County. In 1891 the community itself was incorporated as a town, known as Hope Mills Number One. Mr. S. H. 'Sim' Cotton, superintendent of the mills, was its first Mayor.  
Click here to see the Hope Mills Guide online.
Things To Do 
It's no surprise that the Friendliest Place in North Carolina for 2020, Dirtbag Ales is in Hope Mills. It is a perfect fit in this friendly community. The DBA entertainment complex boasts a large playground, a dog park, playing fields, and a restaurant, Napkins, on-site. Nearby, Grandson's restaurant offers a buffet of filling southern favorites. See all Hope Mills dining options. 
At Cypress Lakes Golf Course, golfers can hit the links on the course where Raymond and Marlene Floyd honed their skills.  Other recreation options include Putt-Putt Golf Course, which was founded in Fayetteville in 1957, Surge Trampoline Park, Waldos Beach, and movies and shopping at the Millstone Complex.  All things to do.