The New Indoor Facility Will Help Rescue Personnel Train Better And Safer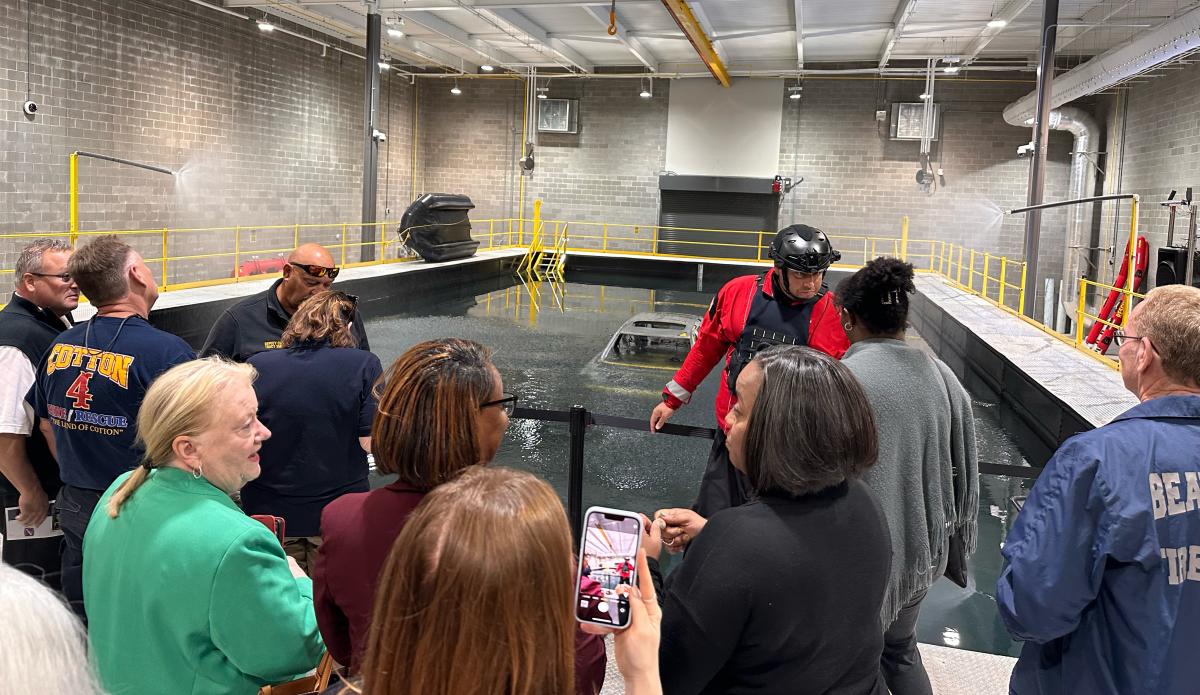 Fayetteville Technical Community College (FTCC) held a grand opening on Nov. 13 for the school's new Swift Water Rescue Training Facility near Hope Mills. It's just the second indoor facility of its kind in the U.S. and the first on the East Coast. 
Located near U.S. 301, the facility will help train emergency rescue personnel and first responders how to rescue people in dangerous water conditions properly. Such training is typically held outdoors in open water - which is dangerous in itself. 
Fire Chief Freddy Johnson, Sr., is the President of the Cumberland County Fire Chiefs Association. He says training under more controlled, indoor conditions adds a desirable layer of safety that was once unobtainable. 
"This is just a better way," he said, " for everyone to get their rescue certification."
Chief Johnson worked with city, county, state, and FTCC officials to build the facility after visiting a similar indoor training facility in Texas a few years ago. Plans were to originally build an 88,000-gallon simulation tank here, but local officials decided to go big. Really big.
---

"This is just a better way for everyone to get their rescue certification." - Fire Chief Freddy Johnson
 
---
By planning completion, FTCC signed off on a 140,000-gallon simulation tank built 40 feet wide, 80 feet long, and six feet deep with 10 electric water pumps. The specs allow the tank to simulate raging water currents up to 7 knots with driving rain, electrical storms, raging wind, and even darkness.
Such capability doesn't come cheap. The multimillion-dollar facility was made possible with a generous $10 million grant and donated land from the county, as well as several more millions from state coffers. 
County Commissioner Jimmy Keefe said county rescue personnel provided 150 swift water rescues during Hurricane Matthew alone so the money is a wise investment into the community.
"Nobody's gonna blame us for the hurricane," he said, "but they're gonna appreciate the rescue. We're gonna be judged on the response."
FTCC President Dr. Mark Sorrells agreed. He said properly trained rescue personnel are essential for any community because rescue personnel are often called in at a moment's notice and are properly trained to do so. 
"We're grateful and proud," Dr. Sorrells said, "to offer this supportive training locally to our public service professionals and to put Cumberland County and Fayetteville Tech on the map as a premier training complex, nationally."  
After a formal ribbon-cutting ceremony, officials and the general public toured the two-story facility and watched actual training.  Rescue personnel took turns swimming against the massive training tank's strong currents to reach a half-submerged car in the middle.
Since the tank is housed in a climate-controlled facility, it can offer year-round training at any time for the team. It can also accommodate simultaneous training of up to three teams at once. Rescue personnel and first responders from across the U.S. are expected to train at the center in the coming years.