The Tourism and Hospitality Management Veteran Brings Nearly 30 Years of Experience To The CEO Position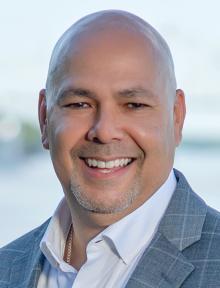 FAYETTEVILLE, N.C. – DistiNCtly Fayetteville is pleased to announce the appointment of its new Chief Executive Officer, Devin Heath, CDME. His start date will be Dec. 4.
This key hiring was made after an extensive national search by the destination marketing organization's executive committee, city and county officials, and other community stakeholder representatives.
Heath, a Washington, D.C. native, has nearly 30 years of tourism marketing and hospitality management experience. He has served as Executive Director at Visit Natchez since 2021.  
In his current role, Heath oversees tourism and destination marketing, film industry development, and tourism governmental relations for the city of Natchez, Miss.
He previously served as Cobb Travel & Tourism's board chairman in Cobb County, Georgia, and has more than 20 years of hotel leadership experience.  
Heath says he became interested in DistiNCtly Fayetteville's CEO position because of Fayetteville's growth potential and the community's focus on collaboration.
"I am extremely excited to join the DistiNCtly Fayetteville team," he said, "and to work with the community to expand the future for Cumberland County."
Heath earned his Bachelor of Business Administration in Management from Loyola University of Maryland in Baltimore. He received his Destinations Management Executive Certification (CDME) from Destinations International, the travel industry's number-one resource for professional development and destination management.
He and his wife, Janice, a University of Georgia alum, are both avid Georgia Bulldog and UNC Tarheel college sports fans. They have five children, aged 21 to 35, and two grandsons.
###
ABOUT DISTINCTLY FAYETTEVILLE
DistiNCtly Fayetteville is a private, not-for-profit organization that positions Fayetteville and Cumberland County as a destination for conventions, sporting events, and individual travel.
It is the tourism marketing arm of Fayetteville/Cumberland County and is fueled by research-based marketing. Area tourism in 2021 directly attributed to 4,500 jobs and nearly $610 million to our local economy, which equals a tax savings of $139.49 for every county household (VisitNC).
Visit DistiNCtlyFayettevilleNC.com to learn more about all the Fayetteville area has to offer.