For a weekend getaway to Fayetteville, especially a getaway spent in the glory of the great outdoors, you gotta get an early start. Consider this your invitation to explore the woods, waters, fields, and hills in this beautiful slice of North Carolina at your leisure. Go ahead and take Friday off; you've earned it. Now, the rest of your reward awaits in Fayetteville: a low-key weekend so good you'll be ready to come back and do it all again in just a few days.
Friday
Arrive mid-afternoon and check into your hotel. When picking a hotel, remember that you can do more than shower and sleep in your home away from home, so choose a place that offers more than just rest. Pick a spot with complimentary breakfast, a pet-friendly spot so your four-legged road-trip partner can come along, a place with a pool so you can cool down at the end of the day, or a spot too comfy-cozy that you'll never want to leave.
Check-in, drop your gear, change, and move; Fayetteville's waiting.
Start downtown with a visit to the Fayetteville Area Convention & Visitors Bureau, where you can pick up an area map and any last pieces of advice you might need. Since your first outdoorsy outing will be a picnic and a hike or bike ride at Carvers Creek State Park, grab lunch from a nearby spot in Spring Lake to fill up that picnic basket: big barbecue sandwiches and all the classic sides from Noble Meats & Eatery, tortas or burritos from Armored Tacos and Grill, or even traditional lunch boxes from Nak Won Korean Restaurant.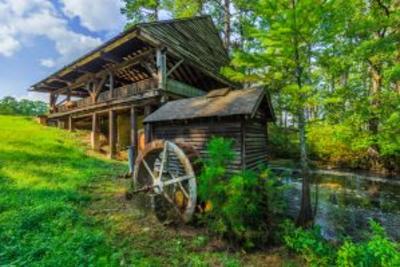 At Carvers Creek State Park, grab a picnic table by the Millpond at Long Valley Farm or spread a blanket beneath the trees. If you have a fishing pole (and a license), feel free to wet a line in the pond. Otherwise, it's time to hit the trail as soon as you clean up from lunch. Hikers and mountain bikers share the 3 miles of trails here at Long Valley, thanks to the Cypress Point Loop and Rockefeller Loop Trails, but in the second section of the park, Sandhills Access, you'll find 10 miles of trails for hikers, bikers and horseback riders. The longest trail–the 4-mile, one-way Longleaf Pine Trail–leads through a forest filled with Longleaf Pines, the state tree of North Carolina. It's a great introduction to the sandhills and piney woods around Fayetteville.
Hike, bike, or ride to your heart's content. Then head back to town to freshen up before dinner.
At dinnertime, make your way to Luigi's Italian Chophouse & Bar, where the extensive wine menu offers plenty of quality options to pair with classic Italian dishes or premium, aged steaks. The pasta and the vino are ideal companions for some live music, and just about every Friday and Saturday night of the year, there's a band onsite, singing, playing, and coaxing the crowd to dance. Even better, Luigi's large outdoor patio offers customers a lovely, al fresco dining experience that is guaranteed to transport you to L'Italia.
Saturday
Be up early and slather on sunscreen because you'll be outside till sunset.
Remember yesterday when you saw the woods at Carvers Creek State Park? Well, hopefully, you took notice because you'll find the terrain–fields, rolling hills, sandy soil–familiar when you step onto the golf course today. Fayetteville's surrounded by great golf courses that cater to a range of playstyles and budgets.
Anderson Creek Golf Club was an amazing course before the 2020 renovation of the greens; now, it's spectacular. The first signature course in North Carolina by Davis Love III (who hails from the Old North State, incidentally) packs a good number of longleaf pines and beautiful natural areas in its 18 holes, giving you those Carolina-perfect views from every tee box.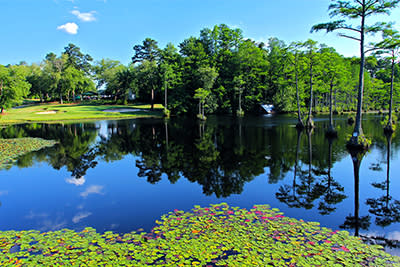 At Cypress Lakes Golf Course, you'll find one of the most versatile courses in Cumberland County. Incidentally, it's rated as the most challenging course in the county, too. And it plays wonderfully. Aggressive golfers will find numerous opportunities to let fly with their driver, hunt the pin from nearly any fairway position, and give those long puts a go. Likewise, novice golfers will find a course that's forgiving and fun to play.
If you're not quite ready for a full 18, grab a bucket from Carver's Falls Golf Driving Range and Pro Shop and start to dial in your game. With instruction and as many buckets as you want to hit, waiting and ready, you'll find it easy to get into the swing of things here.

 
Putt-Putt Fun Center has golf of a different sort: miniature golf. This is no bent-grass green, bucolic walk in the woods; it's an Astroturf and neon golf ball good time. Leave your clubs at home and grab one of the well-loved putters before you head out for your round. Then stick around for the arcade, batting cages, and laser tag.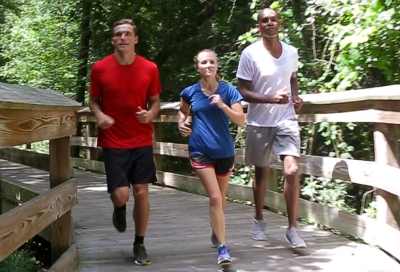 Of course, you might not be the golfing type. Don't worry; Fayetteville's got plenty for you, too. Wander the paths and garden rooms of the Cape Fear Botanical Garden. They meander from planned and immaculately planted gardens to wooded bluffs overlooking the Cape Fear River to the banks and floodplains of the river itself. It's truly a gorgeous setting to slow down and take your time picking out the small beauties and joys in nature. The curling tops of ferns, the bright bursts of color from flowers and shrubs, the slow determination of pollinators as they flit and fly through the gardens, the sound of the wind, of the crunch of gravel on the path, of birds singing . . . you'll find all this here. You'll find many a well-planned bench from which to enjoy the show.
Look at more of the town with a walk on the Cape Fear River Trail. This river trail will lead you from the Botanical Garden through a section of east Fayetteville on a path built so walkers, joggers, and cyclists can get a dose of fresh air and sunshine. Along the way, you'll be in a prime spot to see some wildlife–dozens of species of songbirds and raptors, deer, squirrels, and even reptiles, like turtles–and get a feel for the easygoing pace of life here.
After a round of golf, you'll be ready to eat. Drop by Gaston Brewing Company, where they brew up everything from those hazy New England IPAs to a light Kölsch to a malty, lightly fruity Strawberry Blonde Ale and serve a menu that satisfies, whether you want a fish and chips, a Chicago-style beef sandwich, a salad or wings.
In the evening, take a stroll through Historic Downtown Fayetteville or along the Golf View Greenway Trail to walk off dinner and give you one more taste of nature before you tuck in for the night.
Sunday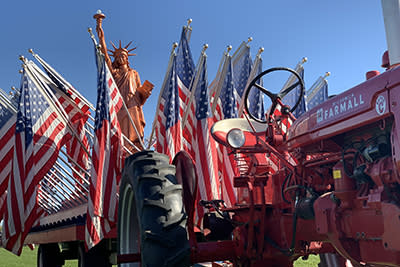 Wrap up your weekend in the great outdoors on a relaxing note with a morning swim and a bit of sunbathing at the Lake Pines Swim Club. Lake Pines is a spring-fed swimming hole that's nearly 2 acres in size and includes plenty of sandy beach, high and low diving boards, shaded picnic areas, a snack bar, and, well, just about everything you need to enjoy a day at the beach, even if we're a couple of hours from the ocean.
After you've dried off, but before you've gotten too hot, there's one last stop before you get on the road. Pack the car and head to Gillis Hill Farm, where the same family has been farming since the 1700s. They have displays of farm equipment throughout the generations and life on the farm throughout the years, but they also have homemade ice cream and bakery treats that feel like the perfect reward for a weekend well spent.
Join Our Email List
Sign up for our emails to get the latest news, personalized trip ideas, and special offers that fit your interests!