When you imagine "comfort food," do you dream about sentimental, nostalgic flavors reminiscent of a simpler time? Warm, hearty fare with roots in your grandmother's kitchen? Meals that envelop your mouth and memory in a heartfelt hug? Comfort food is a time-honored culture in our region, and there are many choices for quintessential Southern cuisine in and around Fayetteville.
WINNER WINNER, CHICKEN DINNER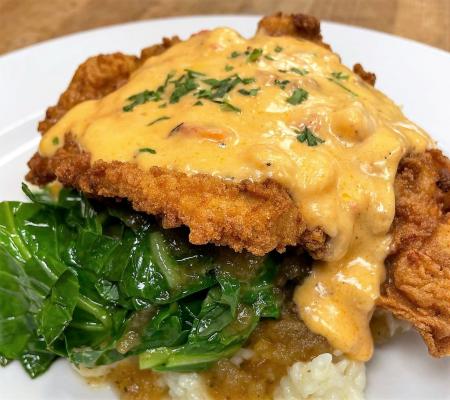 As the famed author, Nora Ephron once said, "Everyone loves fried chicken. Don't ever make it. Ever. Buy it from a place that makes the good fried chicken." Several Fayetteville area restaurants have fortunately discovered the crispy, juicy secret to GREAT fried chicken. A favorite among locals "east of the River," Kinlaw's Welcome Grill on Sapona Road serves traditional fried chicken and other Southern staples such as meatloaf and pork chops in an easygoing atmosphere. Uptown's Chicken and Waffles at Ramada Plaza on Owen Drive has both classic and innovative forms of the dish. Chef Judy McLean is a local celebrity who competed on Food Network's "Chopped" and "Supermarket Stakeout." Crown Fried Chicken, with locations on Murchison Road and Ramsey Street, infuses a taste of New York and New Jersey into our cuisine. Try their famous "Mumbo" wings. Barbara Ann's in Hope Mills started as a food truck with a loyal following and is now a shop on Main Street. The eatery is renowned for distinctive fried chicken with popular accompaniments including candied yams, slaw, and potato salad. For an exclusive-to-Barbara Ann's experience, order the fried chicken and red velvet waffles. Circa 1800 on Person Street also offers a unique spin on a classic with their Southern Chicken Parmesan with pimento cheese, green tomato marinara sauce, and collard greens.
KIND OF A PIG DEAL
North Carolinians tend to hold steadfast, unwavering, dyed-in-the-wool notions about a contentious issue in The Tarheel State: barbecue. Fayetteville can satisfy both Eastern North Carolina-style barbecue loyalists (who favor a vinegar-based sauce) and Lexington-style barbecue fans (who prefer a tomato-based sauce). Here, pulled pork aficionados can enjoy a plate of slow-cooked goodness with all the trimmings: macaroni and cheese, fried okra, potato salad, and hushpuppies – to name only a few tasty trappings found at restaurants in Cumberland County. In downtown Fayetteville, try Fowler's Southern Gourmet on West Rowan Street and Smoked Fresh on Person Street. Head to Raeford Road for Southern Coals, or venture to the "northside" for Peaden's on McArthur Road or Noble Meats on the corner of Lillington Highway and Manchester Road. Iconic local chain Bar-B-Que Hut is a no-frills way to get your fix, too.

THE UPPER CRUST
From chicken pot pie to peach cobbler, all that is delectable about the South can come in a crust. Fayetteville Pie Company in Westwood Shopping Center is the place for savory and sweet pies including the "Fayetteville Favorite," a pulled pork and sweet potato concoction that is sure to tempt your tastebuds. Visit Burney's Sweets and More on Raeford Road for their banana split, chocolate pecan, coconut cream, peanut butter, and sweet potato pies for dessert. Enjoy a cup of coffee with your pie (or cookie or cake) at Fayetteville Bakery and Café on Boone Trail. You'll find pastries with a German accent at Max and Moritz on Cliffdale Road. In Hope Mills, Superior Bakery is legendary for its array of treats.
TRUE GRIT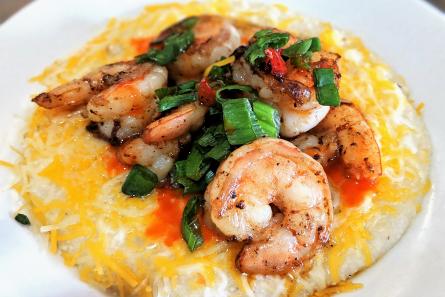 Ah, the age-old question about Southern food: what is a grit? If you haven't tried this stone-ground corn delicacy, run to Fayetteville! Circa 1800's Shrimp and Grits and Greens is a masterful medley, with its titular ingredients enhanced by bacon, cheddar cheese, and cream sauce. Uptown's Chicken and Waffles adds andouille sausage and Cajun gravy to its version of the meal. The Mash House on Sycamore Dairy Road loads their concept of shrimp and grits with fresh vegetables and a Tasso ham gravy. There, you can even pair a hand-crafted ale or cider with your meal. For a taste of the recipe with a Key West vibe, visit Latitude 35 on Hay Street in Haymount.
ALL YOU CAN EAT
We can't spill the sweet tea about quintessential Southern comfort foods without mentioning the bountiful buffets in the area. No visit to Fayetteville is complete without a trip to Fuller's Old-Fashioned Bar-B-Q, which has two locations on Raeford Road and Eastern Boulevard. Readers of Up & Coming Weekly recently named Fuller's as the "Best Soul Food Restaurant" in the city. The Sandpiper, also on Eastern Boulevard, has served the area for 35 years and features seafood on its smorgasbord. Grandson's on Marracco Drive in Hope Mills is a long-standing, come-as-you-are spot where you can "eat all the fixin's a stomach can hold." Just heed this one piece of advice: save some room for the banana pudding!