The veteran-friendly community of Fayetteville has turned the idea of a typical military town upside down. Home to Fort Bragg and the 82nd Airborne and the U.S. Army Special Operations Command, this small city known as "America's Hometown" now lives large, thanks to the many veteran families who have injected their creativity into Fayetteville by sticking around after completing their service. They are staying in town by choice. That's a win-win. Not only have these dedicated Americans made Fayetteville a better place to live, but they've also made it a better place to vacation as well — one that really knows how to appreciate veterans.
Fayetteville has always been a nationalistic place, one that focuses on patriotism and freedom. Fayettevillians ratified the U.S. Constitution there in 1789, and of the 13 American cities named for the Revolutionary War hero the Marquis de Lafayette, it's the only one that he visited on his grand 1824 tour. In the 21st century, the city branded itself as the "World's First Sanctuary for Soldiers and Their Families," which prompted Time magazine to proclaim Fayetteville as America's Most Pro-Military Town.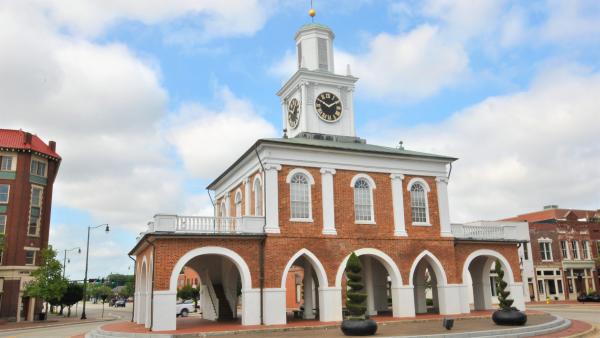 North Carolina Delegates ratified the United States Constitution on this site, in 1789
Perk up your ears while you're in town. You may hear some old-timers or bearded millennials refer to town as "Fayettenam." This nickname derived from the 1960s protesters in opposition to Fort Bragg's sending troops to Vietnam. During the ensuing decades, this moniker has become a proud one, exemplifying a community who makes ultimate sacrifices when its nation calls. 
Before visiting, be sure to go to the Visit Fayetteville N.C. website to check out the 200+ listings of discounts for restaurants, accommodations, shopping, and services throughout the county, click here.  You can expect to receive at least 10% off at most of these businesses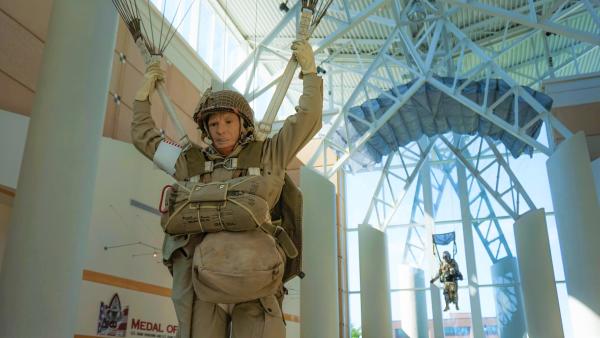 Airborne & Special Operations Museum 
Military heroes are honored and celebrated in many places as there is America around every corner. Begin at the Airborne & Special Operations Museum in historic downtown. The institution honors the efforts of Fort Bragg's paratroopers during U.S. conflicts with a chronological tour from the 1940s to the present through exhibits of equipment and uniform, dioramas, and films. The gardens surrounding the museum hosts two fine military statues; The 16-foot-tall Iron Mike personifies the steely nature of the brave and tough veterans. Nearby, under a shady tree, rests a much smaller piece that pays tribute to the dogs who've served. There's also a Parade Field, a walkway lined with flags and monuments. Of course, America's first state park dedicated to honoring veterans from all service branches is here too. The North Carolina Veterans Park is adjacent to the museum and it pays homage to individuals from the state's 100 counties who served.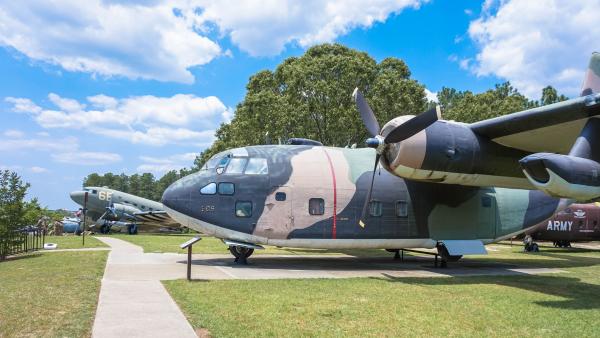 82nd Airborne Division War Memorial Museum Grounds
You'll also want to venture onto Fort Bragg, the world's largest military training installation. It's home to the 82nd Airborne Division War Memorial Museum, the second oldest U.S. Army Museum. Following from the Division's 1917 inception, the museum explores the active-duty infantry that specializes in assault operations. The grounds also include an Airborne Airpark, an exhibit of almost every type of aircraft used by paratroopers since World War II.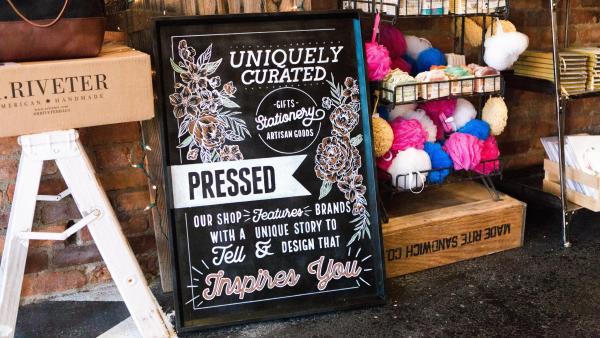 Pressed - A Creative Space in Downtown Fayetteville
Many Fayetteville businesses are owned and run by veteran families. At the boutique, Pressed—A Creative Space, Ashley and Jon Thompson and Angela Santos feature locally made t-shirts, bags and wallets, greeting cards, and all manner of stylish items for the home. When Ashley and Angela's military husbands were in active service, they channeled their passion for design and décor into a business that also feeds positivity into town. Then after serving for seven years, Jon joined forces with his wife to make Pressed a family business.
Over at Cornerstone Design, you'll meet owner Tianna Dean. She'll introduce you to her husband's, Mike, farmhouse table designs, and then invite you over to her candle-making counter where you too can make your own. Tianna tells the story of when she and Mike were based in Columbus, Ga., and they bought their first house. "We could afford the house, but not the furniture," she says. So Mike started building furniture. When he left the service after serving at Fort Bragg, the couple grabbed onto the idea that the dining table is the cornerstone of the family gathering together, hence the company name. Now the couple sources the wood locally in North Carolina and works together to build a better Fayetteville.
Down the street at Floating Shanti, when you take an hour-long float in their saltwater serenity tank, you're supporting a Service Disabled Veteran Owned Small Business. Nicole Walcott, a veteran and the wife of a policeman who is also a veteran, has built this wellness retreat not only with service individuals in mind, but also as a place of tranquility for first responders. The name Shanti is Sanskrit for peace — the goal of the business. With a physician on staff, Walcott wants those with chronic pain, PTSD, depression, anxiety, and stress-related symptoms to find help here.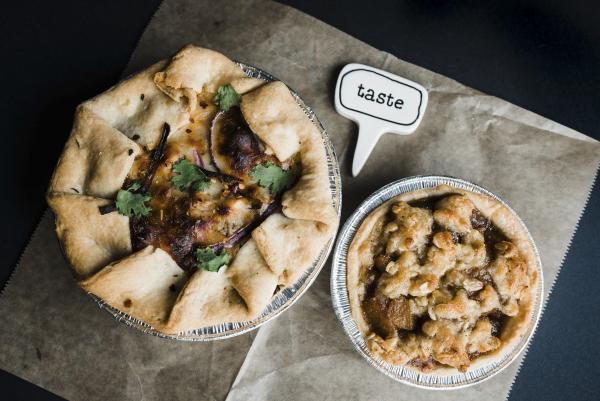 Fayetteville Pie Company serves North Carolina's best pie. 
Another veteran-owned business has a huge lunchtime following. Fayetteville Pie Company is the brainchild of Leslie Pearson and her military hubby. Leslie, who is also a successful artist, channels her creative spirit into the love of pie-making. She dishes up savory and sweet concoction every day, and folks come from all over town, the base, and even off the interstate to sample these famous concoctions.

Veteran Owned Lake Gaston Brewing Company offers food from celebrity chef Theo Gumbs 
Beer and veterans go together as well; several Fayetteville breweries come from veteran hands. Dirtbag Ales features the brews of Vernardo "Tito" Simmons-Valenzuela, a former Army medic. Being called a "dirtbag" may seem offensive, but the military know it creates a fellowship with others who've kicked around a few deployments. Huske Hardware is also veteran-owned in downtown, as is Bright Light Brewing.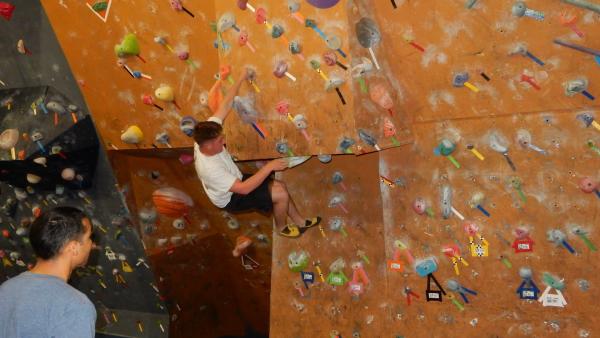 The Climbing Place has one of the largest climbing walls in North Carolina   
Several Fayetteville businesses cater to the adventuresome side of military residents and guests. Spots such as the Climbing Place offer $10 Wednesdays for vets and their families. That fee includes climbing time and gear.  Over at Escape Rooms, small groups get locked in a room and must solve a series of puzzles to escape within 60 minutes. Escapology works on the same premise.
For a pseudo combat experience, check out Black Ops Paintball/Airsoft's 85 acres for some colorful battle. If you prefer your clash to not leave any marks, opt for Battle House Laser Tag. This mission-based game features realistic weapons, fake bombs, and airstrikes. For preferring to learn a different form of combat, check out the All-American Fencing Academy's walk-in classes during Downtown Fayetteville's Fourth Fridays, where you can sample a fencing class.
The most patriotic time of the year to visit Fayetteville is on the Fourth of July. The community goes all out with a downtown festival, an outdoor patriotic concert by the local symphony orchestra, an Independence Day parade, and a huge firework display to cap the holiday. However, the flag flies proudly in town all the other 364 days of the year, and you are guaranteed that Fayetteville always welcomes veterans.
Join Our Email List
Sign up for our emails to get the latest news, personalized trip ideas, and special offers that fit your interests!