Every year the President proclaims January 16th to be Religious Freedom Day. The history of this important day goes back to 1786, to Thomas Jefferson's Virginia Statute for Religious Freedom. That statute led to the establishment clause of the First Amendment of the U.S. Constitution— "the right of the people peaceably to assemble."
Even before our Constitution gave our nation the Right of Assembly, though, early settlers were gathering for worship services in Cumberland County. As I've studied the history of this area, I've been interested to see how the history of the greater Fayetteville area is so deeply intertwined with that of our churches. Over 40 churches here claim a history dating back 100 years or more, and several surviving historic churches paint a fascinating picture for us.
The Fayetteville Area Convention & Visitors Bureau (FACVB) has chronicled our churches' history and provided a navigable route through the Religious Freedom Trail. Here, I'm highlighting just a few churches on that trail—inviting locals and visitors to take a tour of our religious heritage and learn more about the diverse, rich history of Cumberland County's communities.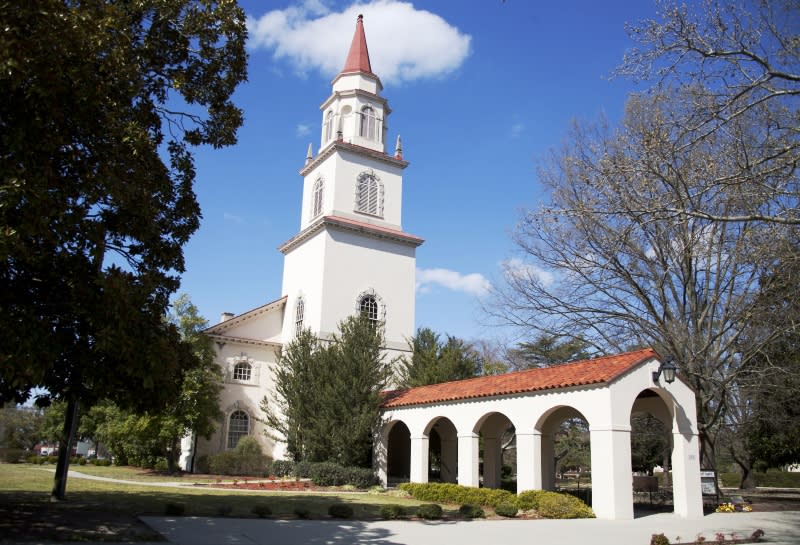 Main Post Chapel, Fort Bragg
Fayetteville – Saint John's Episcopal Church
Fayetteville's first Episcopal Church was formally organized on April 7, 1817. The original church building was completed in 1819 but was destroyed by the Great Fire of 1831. The rector at the time traveled north to seek aid to rebuild the church and returned with $7,600 and a bell (later given to the Confederate cause) from St. Paul's Episcopal Church in Troy, New York.
Fort Bragg – Main Post Chapel
This non-denominational chapel was completed in March 1934, financed by the Works Progress Administration (WPA), and represents one of the finest military chapels in existence. Numerous colorful stained-glass windows were added in 1945, and the breezeway in 1964. Its Classical Revival style is highlighted by stucco walls, arched windows, and a monumental steeple. The interior acoustics provide enhanced sound for musical and spiritual events which continue to serve the military community stationed at Fort Bragg, both active duty and retired soldiers.
Linden – Sardis Presbyterian Church
Sardis Presbyterian Church was organized on May 5, 1816, by a group of 27 dedicated Christians who met for worship at Hodges Meeting House on the bank of Little River. Like other early Presbyterian churches, services were delivered in both English and Gaelic.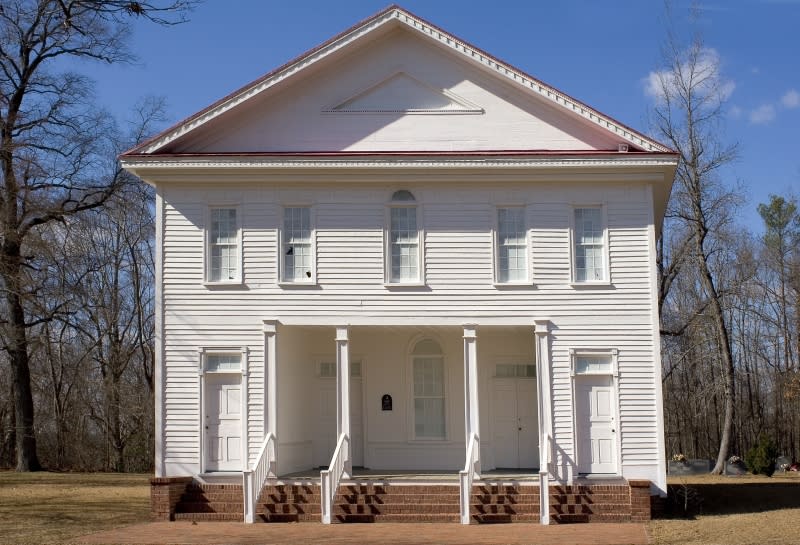 Old Bluff Church, Town of Wade
Spring Lake – Bethel A.M.E. Zion Church
The Bethel A.M.E. Zion Church was founded in 1873 as a mission, known as the "Little Ark." The late Jack Murchison built a brush shelter to preach to two neighboring plantations. A few years later, a Presbyterian minister preached at Little Ark and established it as a Presbyterian church. Subsequently, a Methodist minister from Fayetteville arrived and converted them to Methodism, which later became a part of the African Methodist Episcopal Zion Church movement.
Wade – Old Bluff Church and Cemetery
Organized in 1758, Old Bluff Presbyterian Church is one of the oldest Presbyterian churches in Cumberland County. This church, along with Long Street Presbyterian and Barbecue Presbyterian Churches, provided the Scottish population of the Upper Cape Fear Valley with longtime formal congregations. The adjacent cemetery is one of the oldest in the county. Many early Scottish settlers and merchant families are buried there, including Colonel Alexander McAllister (a leading county patriot in the American Revolution), Farquhard Campbell and David Marshall (Carbine) Williams (invented the semi-automatic M1 Carbine rifle used in World War II). The present Greek Revival structure was built in 1858. This church still holds regular services.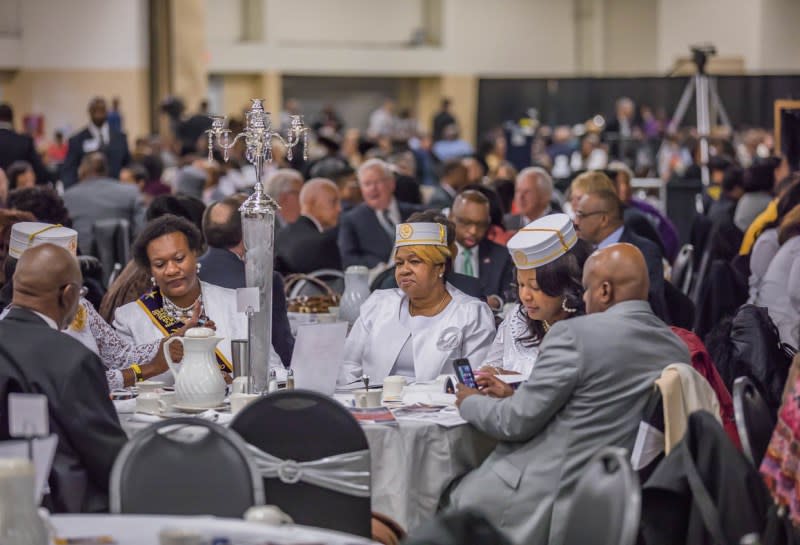 25th Annual MLK Prayer Breakfast, City of Fayetteville
Over the next week, you'll find many folks exercising their Right of Assembly as we celebrate the life and legacy of the Reverend Dr. Martin Luther King, Jr. Join us at the following events:
These events are not the exception to the rule. Cumberland County plays host to many religious events, conventions, concerts, and more throughout the year. Another one to add to your calendar is the annual AsONE Unity Week & Prayer Walk (April 7-13, 2019), when hundreds of believers from churches all over the Carolinas will gather as one body in Fayetteville. Keep track of this and other religious happenings year-round on the FACVB's Calendar of Events.
The FACVB's Religious Freedom Trail provides a comprehensive guide and a handy map to assist our visitors in exploring a total of 18 churches of significance, to include those listed above, and six historical markers. You'll also find 17 other Cultural Heritage Trails on that site that feature everything from our history museums to our international cuisine options to our arts venues.
AsONE Prayer Walk