As we close out May (National Hamburger Month) and head into the summer, I think it's time to take our visitors on a tour of Cumberland County's burger joints. Sure, you can find several popular burger chains here, but do you know where our mom-and-pop grills are? Better yet, do you know who our locals claim makes the best burger here? I recently took an informal poll of my coworkers and Go Fayetteville's followers. Dozens of people voted for their favorite burger joints, and I'm here to spill all their secrets on this meaty topic.

When my girlfriend recently discovered I'd never had "the Robertson's experience," she insisted we go there for lunch. Located in the Eutaw Shopping Center, this charming spot has an old-school diner feel to it, and the lunchtime crowd proved to me how popular it is with the locals. Whenever I try a new burger joint, I usually start with the Classic Cheeseburger, and this time, I went big with a double. Made fresh to order, their burgers are old-school in the best way possible, with nothing fancy distracting from the juicy patties. As Michael confirmed, the Bacon Cheeseburger is what Robertson's claims to be their best seller. Rumor has it that their Chicken Salad Sandwich is hard to beat, as well.

More than one of our locals voted for this hole-in-the-wall spot. Apparently, what sets Will's Grill apart is its signature gourmet Pretzel Bun. According to Rick and others, the Farmer's Daughter Burger—made with egg, bacon and chili—is a customer favorite. Being a spice lover myself, I'd be tempted to order either the Chuck Norris or the Bruce Lee, rated #4 and #5 on their Spicy Burger menu. Will's Grill is going on my foodie bucket list, for sure.

Three of our breweries also feature restaurants, and in response to my poll, the locals specifically named one. That'd be Gaston Brewing Company (GBC), located in the heart of Downtown Fayetteville. You simply have to start with the Gaston Burger, topped with their signature Boondocker IPA BBQ sauce. They've recently added a Southern Jam Burger to the menu, and all I'm going to say about that is bacon jalapeno jam is the not-so-secret secret to this winner. Regardless which one you order, I must suggest you try a side of the spicy, fried Cauliflower Bites—my biggest obsession at GBC.

In 2018, a new eatery opened its doors at Fayetteville's historic Campbellton Landing, a popular fishing destination on the Cape Fear River. Deep Creek Outfitters is outfitting fishermen with gear and bait and feeding their visitors well at the Deep Creek Grill. You'll find Southern-inspired daily specials, burgers, and hot dogs on their menu. On my recent visit, I went with the Classic Cheeseburger, and it was so big, I could have gotten away with a single. Fans of the Carolina Burger just need to ask for their burger to be made "all the way," and you'll get a generous portion of chili and slaw on that bun. Afterward, make sure you pop next door for a hand-scooped ice cream cone.
People's Choice Burger: R Burger

And now we come to the best of the best. Exactly half of our voters named this specific food truck over and over. I'm one of their super-fans, but even I was surprised to realize how passionate people are when it comes to "ouR burger." Even Alton Brown, of Food Network fame, made a point to grab several bags of their burgers for his crew when he came into town. The locals have spoken now, so without further ado, I hereby unofficially-officially name R Burger the "People's Choice Burger" for Cumberland County.
The people may agree R Burger is the best, but they certainly don't agree on which of their burgers is the best. Some people, like Hanna, love their Carolina Burger (chili + slaw + onion + mustard) and "swear by" their Classic Cheeseburger. Others, such as myself, are passionate about their Southern Burger—a rich combo of house-made pimento cheese, grilled onion, and mustard. One of the most recent additions to their menu is the Egg Burger, created especially for the Dirtbag Ales Farmers Market. Rumor has it that those in the know also order an off-menu special called the Bacon & Bleu.
Whatever your burger leanings might be, you should know R Burger grinds their beef daily and cooks their ¼-pound patties on a griddle, trapping all that juicy flavor inside the meat. Every burger comes with two patties and a generous serving of what I claim to be the best fries I've ever eaten. On any given day of the week, you'll find R Burger's truck popping up at schools, small businesses, festivals and breweries. In fact, you'll regularly find R Burger parked on the back patio of Bright Light Brewing Company (see beer in top picture). Wherever they go, hungry folks are right behind them, lining up. If you visit no other burger joint in Cumberland County, make a point to join the locals at R Burger.
Small-Town Burger
I'd be remiss here if I neglected to mention a few of Cumberland County's small towns and the burger joints our locals love to frequent there. After all, hometown eateries are the true gems!

If you're craving a "nasty good" burger, look no further than this treasure of a mom-and-pop grill on "the corner" (don't forget those chili fries!).

Whether you order the Little Mama Burger or the Big Papa Burger, the giant onion rings are a must at this charming Americana diner!
In addition to their popular breakfast menu, this small-town mainstay "is known as an all-time hamburger restaurant," dishing up specialty burgers.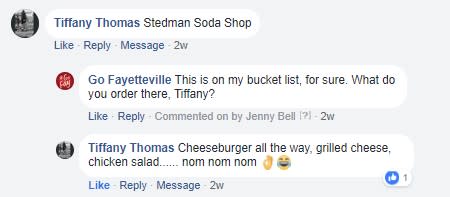 Step back in time at this old-fashioned soda shop, where the burgers are sloppy in the best way possible.
For all our burger joints and more options, be sure to check out the Fayetteville Area Convention & Visitors Bureau's Dining, featuring 630+ restaurants, eateries, food trucks, and more.
Note: Please call to verify the status of these businesses before visiting.