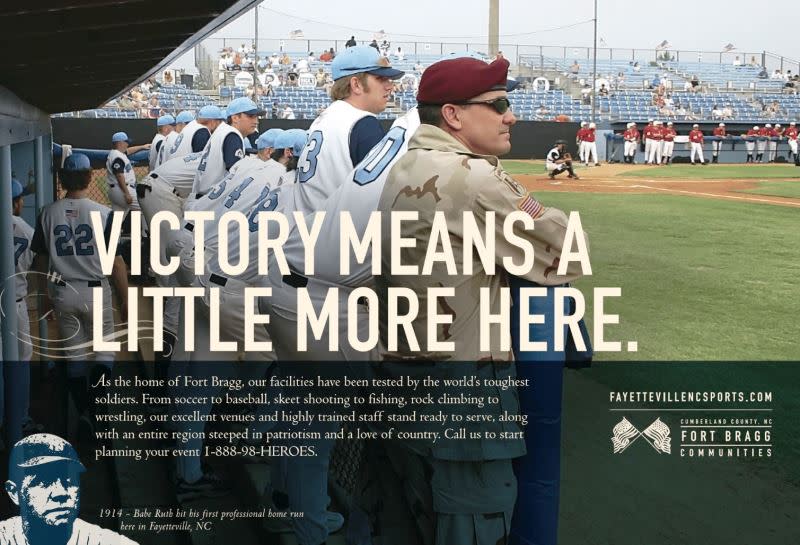 For five years the Fayetteville Area Convention & Visitors Bureau (FACVB) has been using a simple slogan to promote the communities of Cumberland County as a sports destination: "Victory means a little more here." Not only is that the FACVB's way of paying homage to our Fort Bragg veterans and their service to our country, but to all the sports history that has been made here, to all the teams and players who have called Cumberland County "home," and to the vast array of sports tournaments we host year-round.
Recently, the Fayetteville SwampDogs have also been bragging on Fayetteville—even calling it "the baseball capitol of the Carolinas"—because you can pretty much pick any night this summer and find a game going on somewhere. With about 100 baseball games to choose from this season—between our beloved SwampDogs' collegiate team and our brand-new Fayetteville Woodpeckers' minor league team—I tend to agree with that assessment.
Additionally, did you know Fayetteville currently has not one, but two temporary exhibits that document our national and local baseball history? Did you know our city and new Segra Stadium will be playing host to a five-day NCAA Division I athletic conference in May, with 14 baseball games to be broadcast live on three different ESPN channels? These reasons, and even more, all serve as bragging rights for us. Simply put, travelers can pick just about any week or weekend to plan a visit here, and they'll have every opportunity to soak up America's pastime in what we proudly call "America's Hometown."
#DYK not only did Babe Ruth hit his first professional home-run in Fayetteville, but he also claimed to have been given his infamous nickname while staying here?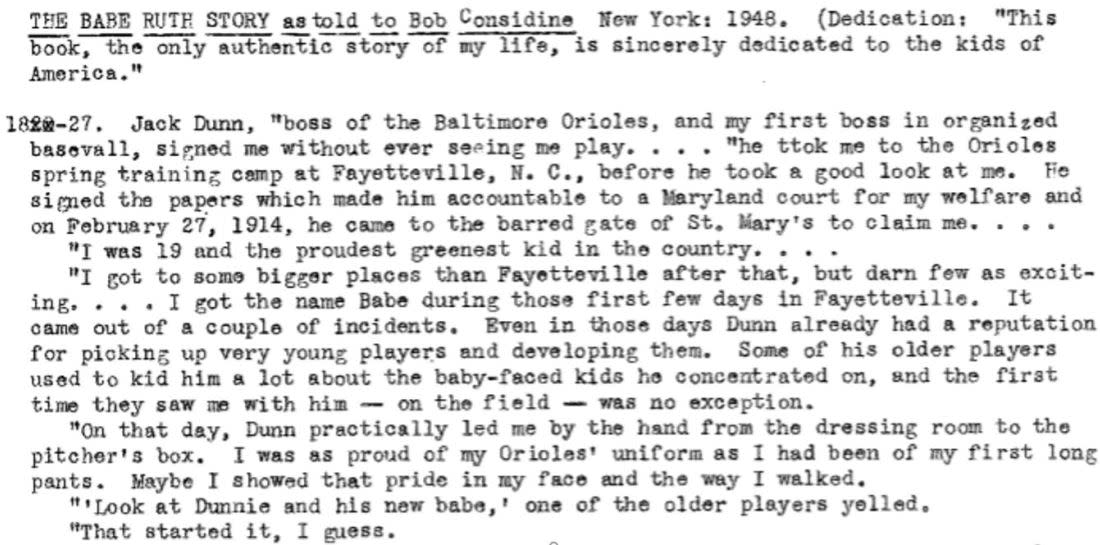 Excerpt from The Babe Ruth Story, by Babe Ruth, as told to Bob Considine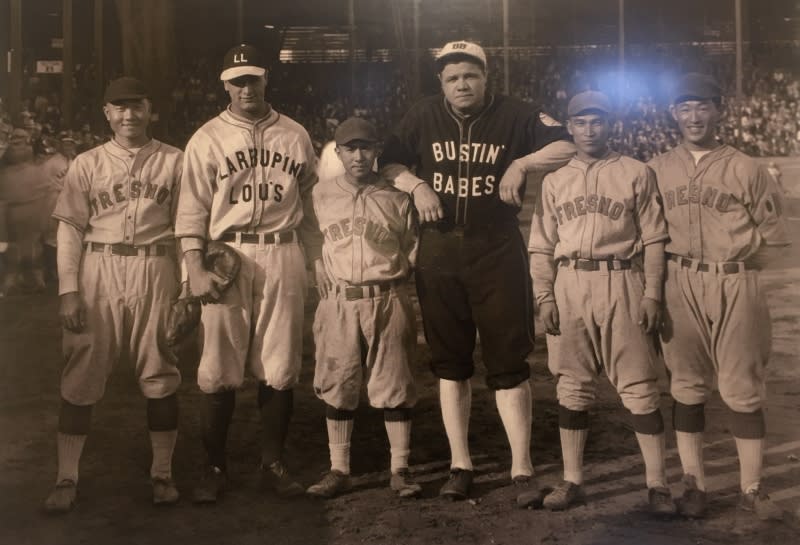 Lou Gehrig, Babe Ruth & Fresno Athletic Club Team, by Frank Kamiyama/National Baseball Hall of Fame and Museum, October 29, 1927 (photo courtesy of Arts Council of Fayetteville/Cumberland County)
The Arts Council of Fayetteville/Cumberland County is the first cultural organization to host this exhibition, which is being loaned to us by the National Baseball Hall of Fame & Museum in Cooperstown, New York. Only the Dodgers Stadium, in Los Angeles, has been lucky enough to host this exhibit before now. It's fitting that our Fayetteville Woodpeckers would be the presenting partner for the exhibit, and the timing couldn't be more perfect, as we're less than four weeks out from the Woodpeckers' first home game.
My coworker and I recently stopped by the Arts Center to grab a sneak peek. Now, I grew up watching MLB games with my dad and collecting baseball cards of the greats, so you can imagine how delighted I was to see the array of iconic photographs hanging on the gallery walls. Among many other legends, this exhibit features Mickey Cochrane, Roy Campanella, Yogi Berra, and of course, Babe Ruth. If you've ever seen A League of Their Own, you'll really appreciate another picture in this exhibit, and that's of Dorothy Kovalchick, an All-American Girls Professional Baseball League (AAGPBL) player, taken around 1945. The AAGPBL players were the very inspiration for that flick. Talk about girl power!
This temporary exhibit is on display to the public at the Arts Center through May 11th.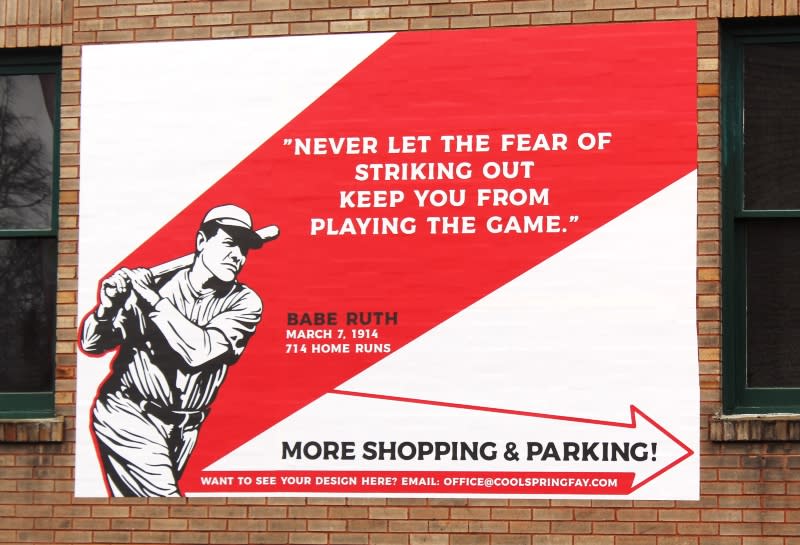 This downtown sign serves as a reminder to visitors that Babe Ruth hit his first professional home-run here in 1914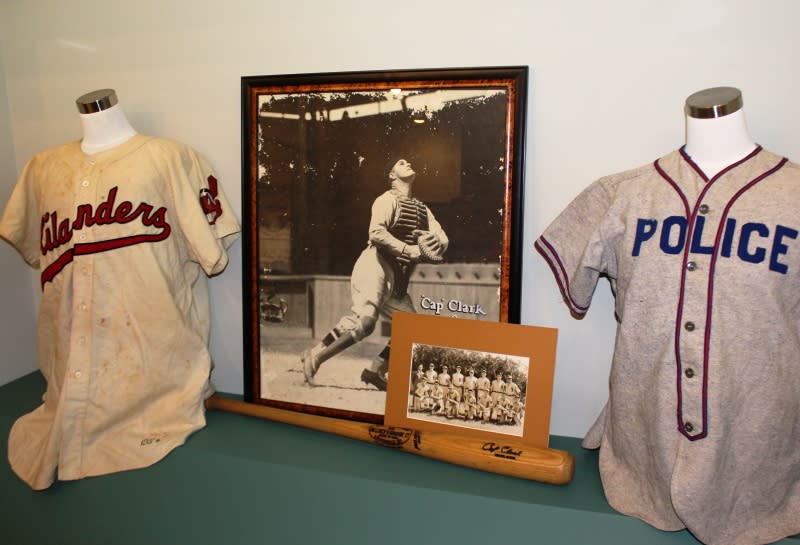 One of the fascinating artifact displays in Baseball in Fayetteville Exhibition at Fayetteville Area Transportation & Local History Museum
Fayetteville's baseball history goes back over 150 years now. In fact, the first baseball game (as we know it) played in Fayetteville occurred in 1867, according to the Fayetteville Area Transportation and Local History Museum. This museum has set about collecting baseball artifacts and other treasures from our own community for a special exhibit that focuses on just our local history—coinciding perfectly with our Fayetteville Woodpeckers' inaugural season. My coworker and I were lucky enough to be given a sneak peek of the exhibit, and immediately, we noticed the Fayetteville Woodpeckers' home uniform and cap on display—an appropriate homage to our most recent history makers.
A couple of the real treasures you'll find here are the baseball bat and pictures of John Carroll "Cap" Clark, who played eight seasons in the minors and made his debut in the majors as a catcher for the Philadelphia Phillies in 1938. That same year, Cap also founded Clark's Sporting Goods, in Downtown Fayetteville, and 120 years later, that store still exists here (on Bragg Boulevard). This Fayetteville legend is buried in Lafayette Memorial Park. I won't give away any more surprises about this exhibit, but for anyone who appreciates sports history, Baseball in Fayetteville is a must see.
This temporary exhibit is on display to the public at the Fayetteville Area Transportation & Local History Museum through the end of 2020.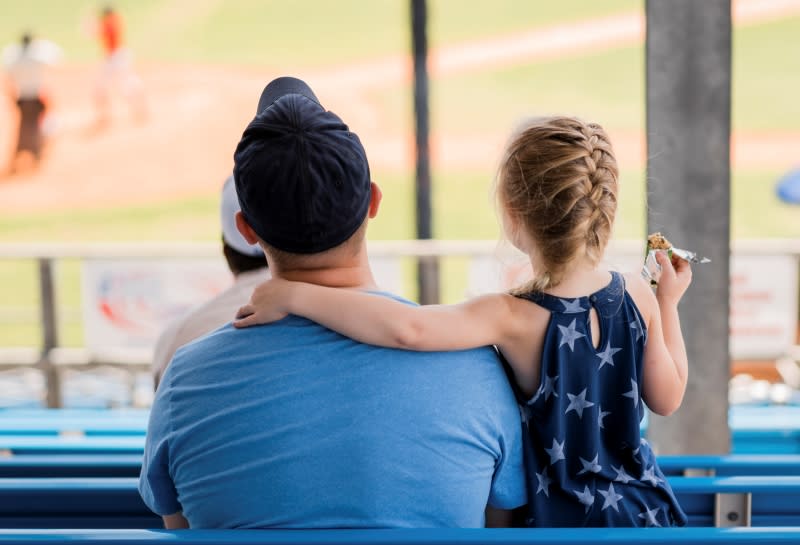 A sweet father-daughter bonding moment at a Fayetteville SwampDogs' game
I've been telling people for years that one of my family's favorite things to do in the summertime is attend a Fayetteville SwampDogs game at J.P. Riddle Stadium. First, you just can't beat an $8 ticket. Secondly, for a few bucks more, you can grab one of the best seats in the house, in the Miller Lite Liberty Lounge, where the beers and wine are just $2 a pop, burgers and dogs are $1 each, and popcorn, peanuts, and soda are free. I've spent many a night at a patio table with family here, watching the sun set as the SwampDogs played their hearts out on the field. There's something magical about this stadium and team that transports you back to your best Little League memories or your college home games with the crew.
This season marks the SwampDogs' 19th season in Fayetteville, and starting at the end of May, ball players from colleges all over the U.S. and Canada will be converging on J.P. Riddle's field for the pure love of the game. Before the season even starts, though, the SwampDogs will be hosting a couple of Spring Movies in the Swamp that you don't want to miss. First, join the 'Dogs on April 13th to screen Rookie of the Year with special guest Thomas Ian Nicholas. Yes, the very actor who played Henry Rowegartner in the 1993 flick will be at the stadium, signing autographs, taking pics with fans, conducting a Q&A, and introducing the feature! Then, on May 11th, you'll want to return to the stadium to screen everyone's cult favorite, Sandlot, on a big screen in the outfield. Remember this one? "You're killing me, Smalls!"
As for the SwampDogs' season promotion nights, I'm excited to highlight a few new and exciting developments. For instance, you'll be able to try your hand at throwing axes with Axes's & X's Throwing Range during every Friday and Saturday home game, plus all the fireworks games (May 31st, June 14th, July 3rd, and August 1st). Other promotion nights will include things like "Tattoosday," when New Addiction Tattoos will be providing ink contests, giveaways, and more during Tuesday games. Lastly, if you're a dog lover, Thursday night games are going to be a blast, as these "Dog Days" games are when folks can bring their canines out to the game.
The SwampDogs will continue releasing information about their other promotion nights and special events throughout the season, and you'll want to follow their Facebook page, @GoSwampDogs, to keep track of all those.
The season kicks off at J.P. Riddle Stadium on May 28th and concludes on August 2nd.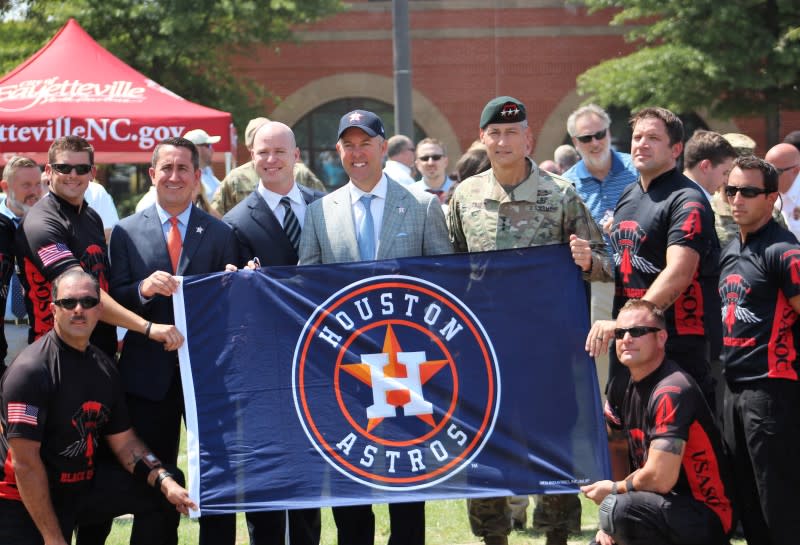 Ground-breaking ceremony for the Houston Astros' Class A-Advanced affiliate team's stadium on Aug. 21, 2017
In November of last year, hundreds of folks, to include coworkers and I, gathered in Festival Park to find out what the name of our new Minor League Baseball (MiLB) team was going to be. Anticipation had been building about the Houston Astros' Class A-Advanced affiliate and its arrival in our communities. Having grown up in Texas myself, I have a real soft spot for the Houston Astros and was especially excited by this news. Some of the local bloggers and I had a chance to interview the team's president, Mark Zarthar, who shared with us the inspiration behind the name.
Of course, MiLB team names are meant to be a little quirky and memorable, and the Woodpeckers' name proves to be both. What our visitors may not know is that Cumberland County's longleaf pine ecosystem is home to the red cockaded woodpecker, an endangered species, and this tough little bird has survived in protected areas of Fort Bragg and Carvers Creek State Park, despite the threat of extinction. As the Woodpeckers' team president explained to us, that woodpecker is a symbol for Fayetteville's toughness and resilience in the face of such hardships as the wars that have carried our military members overseas and the hurricanes that have threatened our communities. Since that announcement, the City of Fayetteville has also proudly adopted the red cockaded woodpecker as its official bird.
The Woodpeckers will play their very first game on April 4th, in Potomac, Virginia. Then we'll be packing out the brand-new Segra Stadium, in Downtown Fayetteville, for their home opener on April 18th, when they will take on the Carolina Mudcats. The team recently released their promotions schedule, and I'm excited to see how many discounts, entertainment options, and more they've planned for every single one of their 70 home games:
Make a Difference Mondays: You can't get much cheaper than a $6 game ticket, and that's exactly what you'll pay on Monday nights if you bring an item to donate to the team's nonprofit of choice.
Kids Two Dollar Tuesdays: Not only will kids, 12 and under, get a $2 hot dog and $2 drink on these nights, but they'll also have full access to the Kids Zone for just $2 with their ticket purchase.
World Heritage Wednesdays: Every month, the Woodpeckers will be celebrating one distinct heritage—more than an appropriate choice for an internationally diverse community like ours.
Thirsty Thursdays: This night is all about cheap drinks and entertainment—as in $3 domestic beers, $2 Pepsi products, and live music after the game!
Fireworks Fridays: Fireworks will be lighting up the sky over Segra Stadium after 11 Friday night games, plus after the April 18th home opener and the July 3rd Independence Day game.
Super Saturdays: Some awesome giveaways are planned for every Saturday night game!
Sunday Family Funday: Take your gloves and hit Segra's field to play catch before the game starts; stick around after the game to take a run around the bases.
In addition to the daily promotions, the Woodpeckers have planned multiple other theme nights and giveaways, and you'll want to check all those out here.
The season kicks off at Segra Stadium on April 18th and concludes on September 2nd.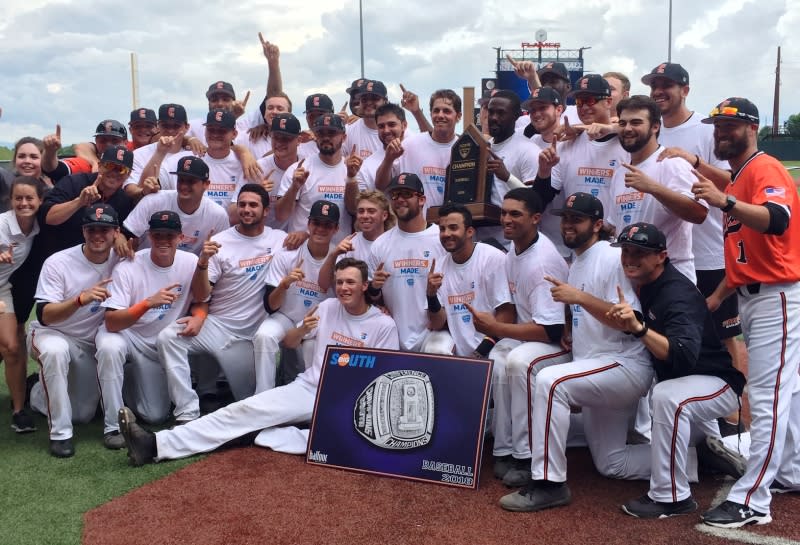 The Big South Baseball Tournament Champion in 2018 was North Carolina's own Campbell University (photo courtesy of Big South)
Last July, the Big South Conference—an NCAA Division I athletic conference based out of Charlotte— announced they had chosen the City of Fayetteville to host their 2019 Baseball Championship. We couldn't be more honored to host the Southeast's "premiere non-FBS conference" in our brand-new stadium. For five days in May, nine conference members hailing from North Carolina and surrounding states will be going head to head in a total of 14 games here.
Best of all, the public may purchase tickets to these games, and we're expecting those tickets to go on sale in April. Meanwhile, a variety of Cumberland County hotels are offering game attendees special rates; check out all those Accommodations and use the group code "Big South Baseball" when booking your room to take advantage of the special rate.
Folks who can't make it to the games can still watch them being streamed live. Tune into ESPN3 for the first two days, or six games; ESPN+ for the third and fourth days, or seven games; and ESPNU for the last day, or "Winner Take All" Championship Game. As of today, March 25th, Winthrop University is the No. 1 seed, at 14-9, but who knows who'll end up taking home the big win!
All 14 Big South games will take place at Segra Stadium between May 21st and May 25th.
#DYK famed boxer Rocky Marciano tried out for the Fayetteville Cubs in 1947 (but didn't make the team)?
[siteorigin_widget class="WP_Widget_Media_Video"][/siteorigin_widget]
Cumberland County is definitely a rising sports destination and the reason we're proud to say, "Victory means a little more here." If you're interested in bringing your sports tournament or other event to one of our many excellent venues, to include Segra Stadium, I encourage you to explore the FACVB's website, specifically Sports Heritage, Facilities by Type, and/or Facilities by Sport. Then contact the FACVB's Sports Sales Manager, Stephanie Decatur, to discuss all your options, at sdecatur@visitfayettevillenc.com or 910-835-5089.
If you're interested in visiting the Fayetteville area to attend a sporting event, you may track all our sports-related activities here. The FACVB's Calendar of Events also showcases all visitor-friendly happenings, sports or otherwise, taking place here year-round.