The greater Fayetteville area regularly plays host to companies and groups from around the U.S. for conventions, reunions and meetings. More and more, they're seeking out unconventional destinations and out-of-the-box experiences. Since so many of Cumberland County's recreation gems are ideal for team-building and corporate outings, I'm sharing a two-part blog on this topic. First, I'm featuring three of our most popular indoor attractions—perfect for both small and large groups. Get ready to leave the office walls behind and pursue adventure here!
"COME FLY WITH ME"
Overview: This attraction can boast that its Paraclete XP Skyventure is "the largest vertical wind tunnel in the United States in terms of power and size." It draws professional skydiving teams from around the world and, of course, from Fort Bragg, but it's also for your average joe with no skydiving experience. Children as young as 3 years old have "flown" in Paraclete's wind tunnel, and because the powerful fans are blowing from below you, there's no free-falling involved. You simply lean into the door of the tunnel and let the air (and your guide) take you up.
Group Info: Paraclete's Party Packages are designed with groups in mind, offering three levels of packages for 6 to 24 people. Package options include a private party room, video, photography and more. Groups opting for the Corporate Outing Package (6 to 12 people) have the additional option of a conference room, where a self-catered lunch is permissible. As Paraclete says, "Trade in your business suits for jumpsuits and prepare to take flight!"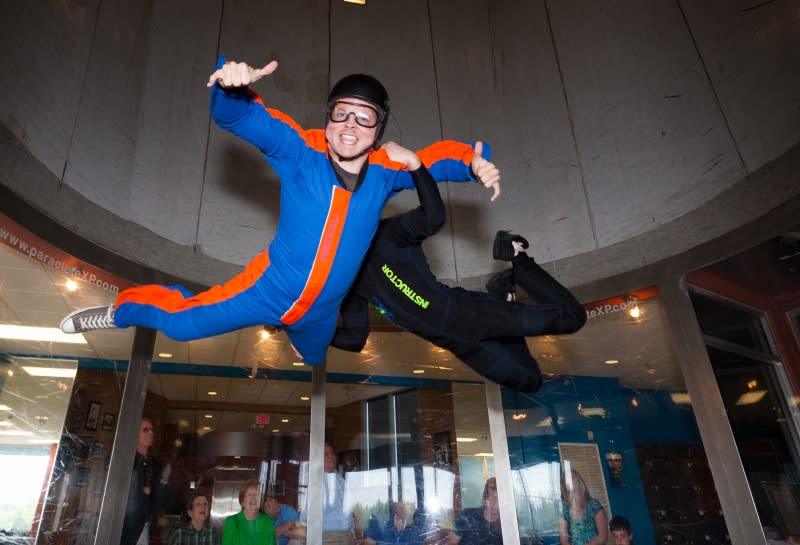 Mid-flight in Paraclete's wind tunnel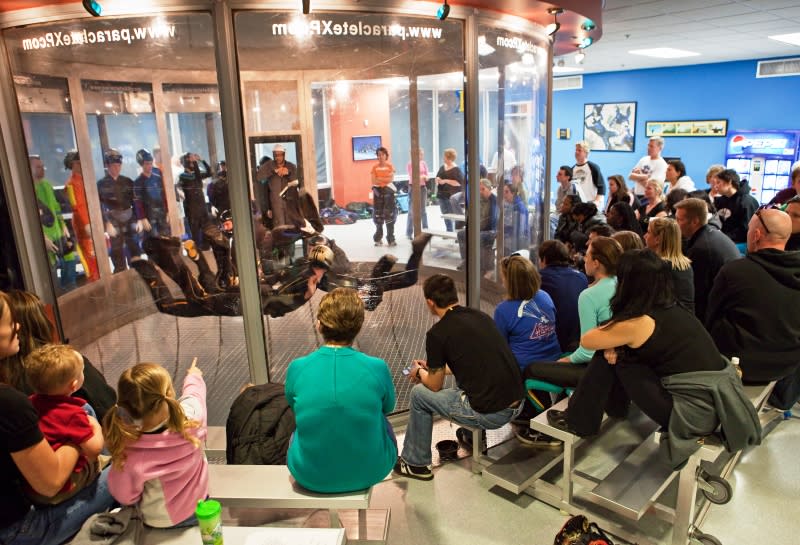 Crowd observing all the action in the tunnel
Personal Experience: Although I haven't earned my wings, yet, I have visited Paraclete on a work outing to enjoy the unique spectator experience (free). They even have seating available for folks to sit, take pictures and enjoy the show—perfect for those group members who feel more comfortable with their feet on the ground. On my visit, I was lucky enough to witness four Golden Knights practicing their tandem jump routines. These members of the United States Army Parachute Team regularly use Paraclete as their training ground. How cool is that?
Facebook Reviews: 4.9 / 5 stars
Bonus: For an even more extreme experience, check out Skydive Paraclete XP, where you'll be trained to jump out of an airplane at 13,500 feet. This attraction is just down the road from its sister business, Paraclete XP Indoor Skydiving, and offers special rates for small groups (3-9 people) and large groups (10+ people).
"JUMP AROUND"
Overview: Much more than just a trampoline park, this destination offers what they call "extreme air sports" in the biggest indoor recreation facility in Cumberland County. Visitors can battle each other on beams over foam pits, zip-line their way across the room, play extreme dodge-ball, test their skills on the Ninja Obstacle Course, climb a rock wall and jump all over the 35+ trampolines here. And that's just a sample of all the attractions at this 40,000-square-foot facility, located in the Westwood Shopping Center.
Group Info: Defy offers a variety of packages for Parties / Group Events. Not only can you hold a corporate event here, but you can even book a private party, reserving the entire arena for your crew. With all the available space and multiple attractions, the possibilities are endless for what you could do with a group on an adventurous outing here. Contact Defy directly to discuss capacity and pricing details.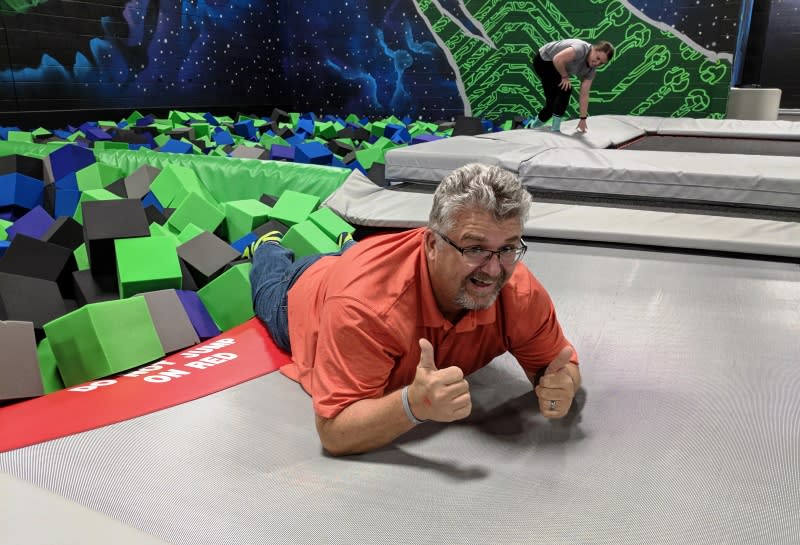 My coworker enjoying himself on our team-building day at Defy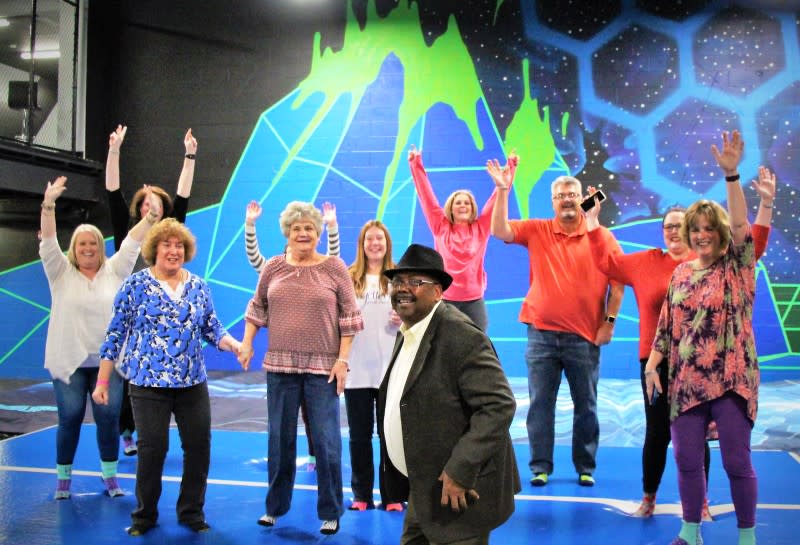 Our team after a full afternoon of extreme air sports
Personal Experience: If you don't think air sports are for adults, think again. My office crew held a team-building day at Defy right after they recently opened their doors. From the youngest employee (20's) to the eldest (70's), our whole team bounced, swung and flipped all over Defy's "playground," and had an absolute blast together. We weren't the only adults enjoying themselves here, either. This site defies the notion (no pun intended) that you must be a young person to play. We all agreed this team-building activity will go down in history as the most fun experience we've had on an office outing.
Facebook Reviews: 4.5 / 5 stars
Bonus: JP's Jump Masters recently opened its doors to the public in Fayetteville. This 10,000-square-foot trampoline also hosts groups, with its café, arcade and outdoor patio setting them apart. Yet another fantastic option is Surge Trampoline Park in the Town of Hope Mills.
"CLIMBING TO THE TOP"
Overview: Triangle Rock Club (TRC) is Fayetteville's newest indoor rock-climbing attraction, located in the heart of the city. This state-of-the-art facility features an expansive bouldering terrain and both lead and top-rope climbing, as well as fitness areas. TRC can now boast a total of four locations in North Carolina and Virginia. No membership is required to this "club," though, to take advantage of their amenities and almost all events. Their calendar is packed with fitness/yoga classes and unique events—open to members (free) and non-members (day pass required) alike. The "Women on the Wall" class, for all levels of female climbers, is just one example of the diverse classes they offer.
Group Info: For groups of six or more people, TRC truly is one of the most reasonably priced recreation attractions in Fayetteville. Because of this, it's a popular site for military physical training (PT), team-building activities and more. If you ask the staff, they'll tell you how much they enjoy tailoring these experiences to the group's unique needs—for example, working on improving employee intercommunication skills. Make sure you request a consultation with the staff before your event to discuss your group's needs.
Personal Experience: In my own interactions with the staff, through my job and on a personal level, I have consistently found them to be the friendliest, most accommodating team of people. Three years ago, TRC hosted my son's 11th birthday party, and hands down, this was the most fun party he's ever had. Quite frankly, in comparing it to other popular destinations, I found the price to be unbeatable for what you get. One money-saver that I appreciated was the fact TRC allows you to bring in outside food. The staff was beyond accommodating of our crew, and their private room was perfect for our group of 12. I'm confident that any group looking to hold an event at TRC would come away with the same impression I have.
Facebook Reviews: 4.9 / 5 stars
Bonus: The Climbing Place boasts that it is North Carolina's oldest climbing gym, currently offering 20,000 square feet of climbing and bouldering in its recently remodeled space. Conveniently located in Downtown Fayetteville, this attraction also offers corporate team-building events, a variety of classes, birthday parties, and much more. They even have a mobile climbing wall that they will transport/run for you at an offsite event—adding such a fun touch to any group function!
If you're with a group or company who's considering the Fayetteville area for your next destination, allow the Fayetteville Area Convention & Visitors Bureau (FACVB) to assist you in planning your stay. The sales team can help you secure the best hotel rates, find that ideal meeting space, and more–all services offered at no cost to your group.
In Part II of this blog series, I am featuring three outdoor attractions that also offer alternative solutions for group adventures. For even more ideas on where to plan your next outing, be sure to check out the All-American Adventure Trail—a handy guide that features 25 attractions, many of which are perfect for group adventures.