In Part I of this blog series, I covered three of our most popular indoor recreation gems, where groups can bond over indoor skydiving, rock-climbing and jumping. Now let's talk about a few of Cumberland County's outdoor attractions that offer groups even more options. Whether you're planning a reunion, corporate outing or team-building day, consider adding zip-lining to that itinerary. Maybe a river-trek is more your speed? We've got that, too. Or your group might enjoy some friendly competition at a clay target range. Regardless, as I've said before, groups can leave their office walls behind and go on an adventure here!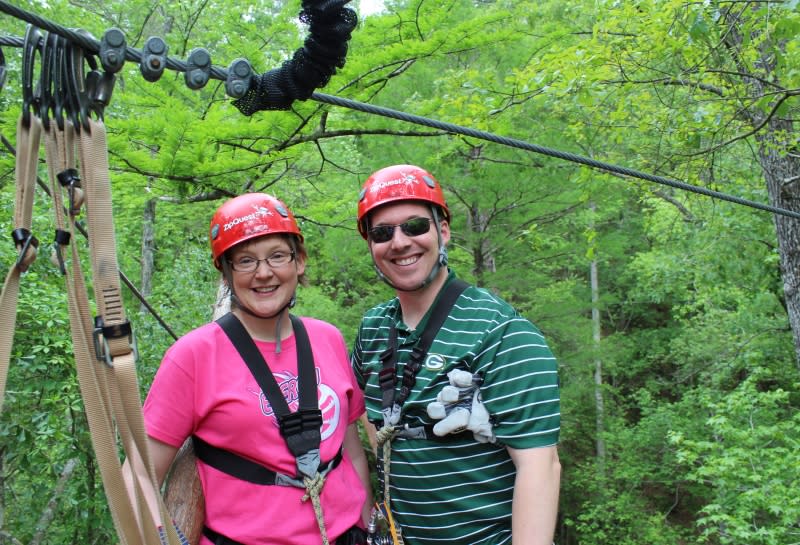 Enjoying a zipline adventure at ZipQuest
"FLY LIKE AN EAGLE"
Overview: I will have to give you the short rundown, as this land's history can be traced back to a gift from King George II. Incredible, right? Not only can you expect an adrenaline-rush type of adventure here, but you'll also be educated by the guides on the biodiversity of this land. The family who owns these 55 acres of virtually untouched forest wanted to see the public enjoying it, but also wanted to protect it from the land abuse that can occur at public parks. Thus, their dream for ZipQuest was born. Today people travel from all over to experience the multi-zipline course on either a Zipline Adventure or a NightQuest.
Group Info: ZipQuest offers several Group Adventures to choose from. If requested, the team will customize a team-building event to your group's needs, conducting a thorough assessment beforehand. Their "Build Your Own Group Adventure" packages come with multiple options, to include a catered lunch. Additionally, meeting space for up to 40 people is available in the onsite historic Mill House, which was built in the early 1900's. Best of all, the group discount rate is applicable to any group of just eight or more people.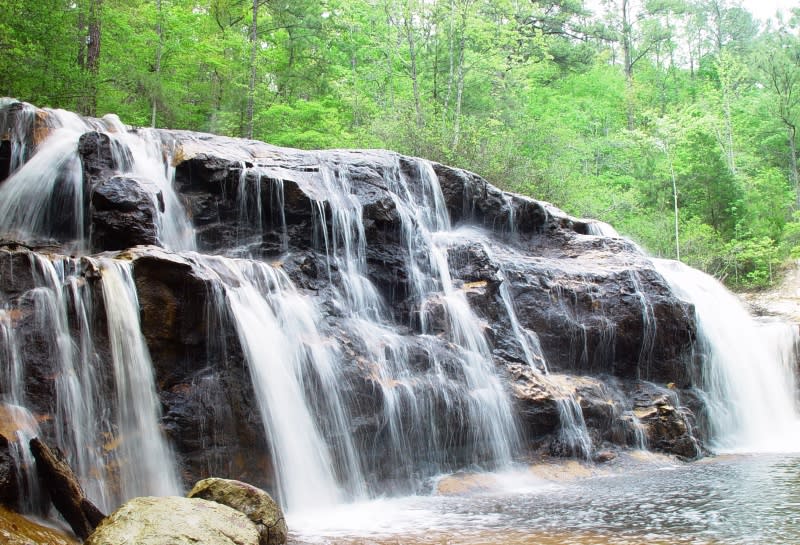 The breathtaking 150-foot Carver's Falls at ZipQuest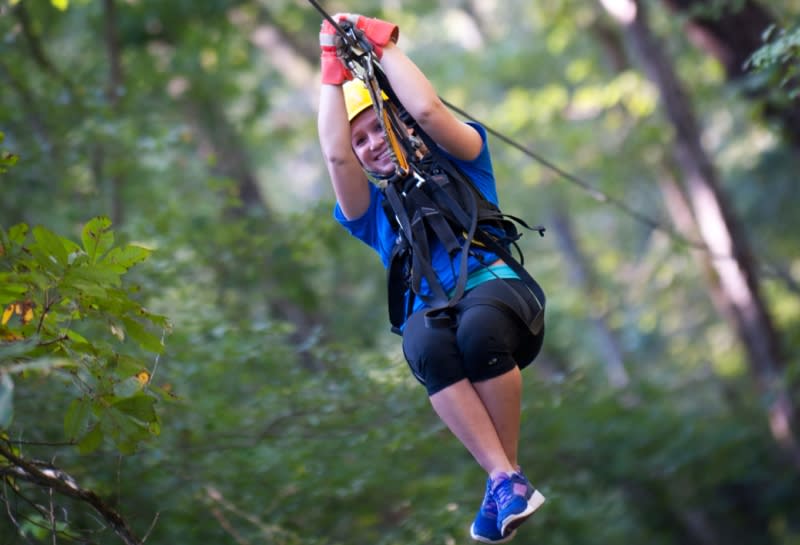 Zipping her way through the treetops
Personal Experience: ZipQuest was my official introduction to zip-lining last summer, at a work outing, and to say I was a bit reluctant to try it is an understatement. The fact that the 8-year-old in my group had little to no fear made me up my game a bit. The canopy guides on our trek were incredibly encouraging, not to mention funny and knowledgeable. After I took my first "plunge," I really got into the pure exhilaration of this experience. How could I not appreciate the thrill of flying through treetops and over a waterfall? Best of all, the guides take pictures for you throughout the adventure. Of course, I documented all the details about this day on the blog.
Facebook Reviews: 4.9 / 5 stars
Bonus: ZipQuest is the only attraction of its type in Cumberland County, but another outdoor attraction for adrenaline-seekers is located in the Town of Linden. The Deep Creek ATV Park is a popular adventure destination, offering hundreds of acres and trails ready to be explored by ATV lovers.
"DOWN BY THE RIVER"
Overview: This attraction in the Town of Spring Lake grew out of the owners' dream to make the Lower Little River accessible to locals and visitors. At this "outpost," you may rent your preferred mode of transportation—kayak, canoe or tube—or bring your own. Then you can hit SLO's short route (3 miles, 2 hours) or long route (6 miles, 4 hours) with your crew. SLO also offers free shuttle pick-up services if you rent your equipment from them (a $10 fee, otherwise). For a fun nighttime experience, reserve your spot on a SLO Glow Evening Kayaking (scheduled periodically). 
Group Info: Since they opened, SLO has hosted many groups for wellness days, team-building activities, and more. Large groups looking to book an adventure there will be offered the additional perks of a river guide and paddling lessons. Just call to discuss your group's needs, ask about their group adventures/packages, and make your group's reservations in advance, especially if you're interested in booking over a weekend.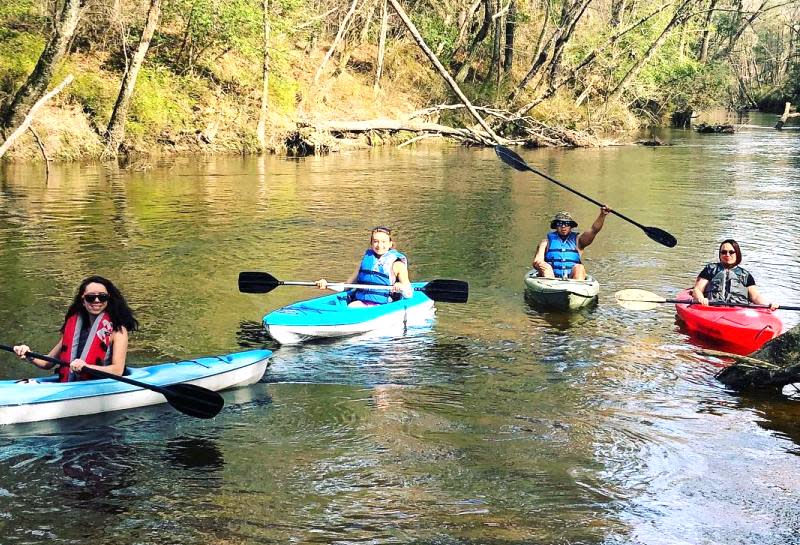 Group who set the April record for fastest time down the Lower Little River (PC: @springlakeoutpost)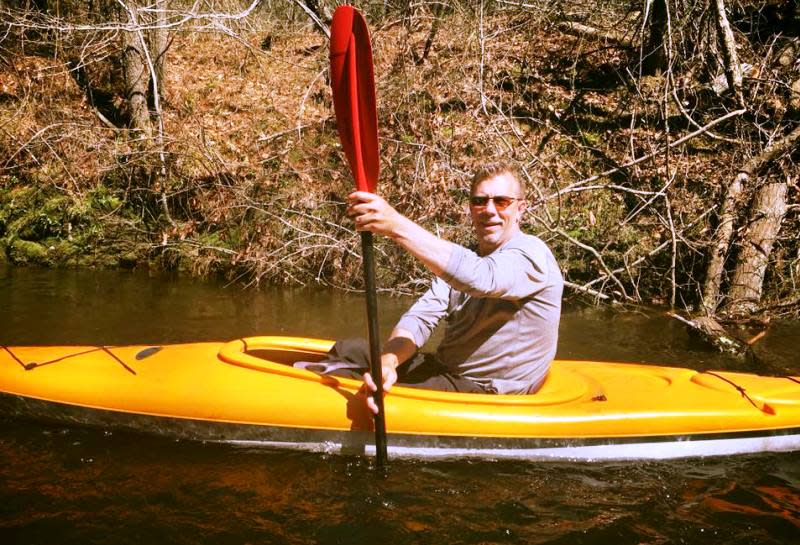 A SLO river trekker enjoying a day on the water
Personal Experience: My coworkers and I are headed to SLO in two weeks for a team-building day. We'll be using all three forms of transportation for our group. Having grown up doing long floats down Texas' rivers, I'm leaning toward the tube option myself. What's neat about their tubes is they come equipped with a cooler in the middle—perfect for storing your beverages. I'm also taking a group of ten bloggers there for a meet-up next month. In planning this adventure with one of the owners, I already found SLO to be extremely accommodating to our group's needs. You'll be able to read more on the blog soon about our experiences at this outdoor gem.
Facebook Reviews: 4.6 / 5 stars
Bonus: Lake Rim Park, in Fayetteville, is another great site to get out on the water with a group. Park rangers host monthly kayak tours of the lake, and you can either bring your own or pay a small fee to rent one.
"ANNIE GET YOUR GUN"
Overview: We've talked about adventures in the air and on water. Perhaps your group prefers to keep their feet on the ground. Fort Bragg Clay Target Center is a great option for non-risk-takers who might enjoy a little friendly competition. This is one of the largest shotgun shooting facilities in North Carolina. Even though it's affiliated with Fort Bragg, it's located in the Town of Spring Lake and is open to the public. Visitors may rent or bring their own shotgun for skeet and trap shooting on one of their 12 competition-level skeet fields (six of which are overlaid with trap fields).
Group Info: This attraction is quite accustomed to hosting large groups for everything from public competitions to private events. The onsite amenities make for an even better experience. From their covered pavilion with sound system to the four gazebos with grills, you have options here. Team members are available for instruction, as needed for newbies to this sport. The group rates start at just a minimum of 11 people, making this a reasonable option for even small groups. You can save even more on your event by purchasing your own ammo and ear protection.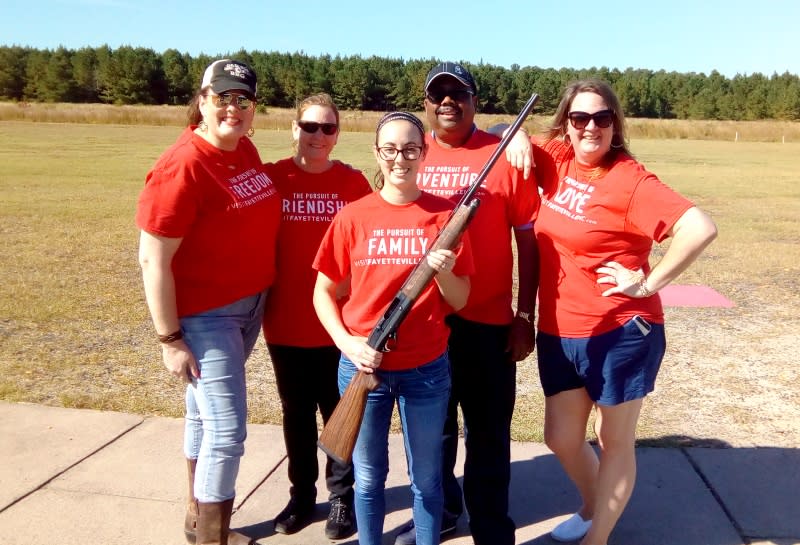 Enjoying our team-building outing at the Clay Target Center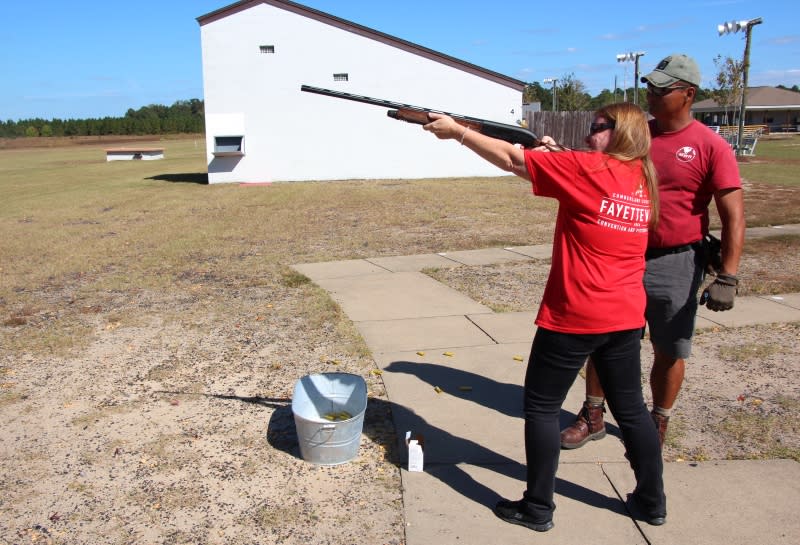 One of my team members and our helpful instructor
Personal Experience: I joined our Sales team here for a team-building event on a gorgeous fall day last year. Although I've shot before, I'd never been to a range or target center. The team member who instructed our crew was quite the patient teacher as he walked us through all their safety rules and precautions. Then we were ready to start trying our luck at hitting that flying orange target. A couple of folks in our group were quite skilled, knocking one target after another out of the sky. Although I wasn't quite as accurate, I still managed to score a few times. The friendly competition we had going between us was the best part of this experience for our group, by far.
Trip Advisor Reviews: 4.5 / 5 stars
Bonus: For an alternative to shooting, look no further than Axes & X's Axe Throwing Range. Their mobile range is available to rent for corporate events, private parties, and more. I got to try my hand at throwing axes at a local festival recently, and it was the highlight of my day when I hit that bulls-eye.
If you're with a group or company who's considering the Fayetteville area for your next destination, allow the Fayetteville Area Convention & Visitors Bureau (FACVB) to assist you in planning your stay. The Sales team can help you secure the best hotel rates, find that ideal meeting space, and more–all at no cost to your group.
In Part I of this blog series, I featured three indoor attractions that also offer alternative solutions for group adventures. For even more ideas on where to plan your next outing, be sure to check out the All-American Adventure Trail—a handy guide that features 25 attractions, many of which are perfect for group adventures.