With January in the books, it's time to discover new entertainment and events for February! The new month will include sports, cultural events, and live music throughout the region. This is your chance to break free of those winter doldrums and find something fun and exciting to do in the area.
 
Now here's what Fayetteville is doing in February!
CROWN COMPLEX
Comedian Rodney Carrington 
Feb. 10
Rodney Carrington will perform his unique brand of comedy at the Crown Complex in the Crown Theatre as part of his 2023 Rodney Carrington comedy tour.
The comedian is known for his witty and sarcastic humor, which blends stand-up comedy and original songs. Tickets are available at www.crowncomplexnc.com
Direct from Sweden: The Music of ABBA 
Feb. 11
Direct from Sweden: The Music of ABBA - With more than a million tickets sold, this live musical performance has delighted music lovers all over the globe. The show's meticulous attention to 70s-era costumes, make-up, movements, and singing ensures that the ABBA enthusiast in you will leave the show amazed.

ABBA is Sweden's biggest export ever, with more than 400 million record sales. This show includes great solos, energetic musical numbers, a live band, and backup singers. Tickets are available at www.ticketmaster.com and www.crowncomplexnc.com.
Confection Convention 
Feb. 18
Confection Convention - Come one, come all for this confectionery cake walk! You'll be able to explore the unique world of treats and desserts while having a good time with friends and family. Explore hard enough, and you might find a caterer for your next birthday party, wedding, or special get-together! Tickets are available at www.crowncomplexnc.com.
LIVE MUSIC
Ready to rock or simply enjoy something to soothe the senses? Here are some of February's live music offerings in the Fayetteville area. 
Feb. 4
Since 1956, the Fayetteville Symphony Orchestra has been educating, entertaining, and inspiring local residents through its live music performances. This month's public concert is a side-by-side performance with the Fayetteville Symphony Youth Orchestra. 
The groups will perform an arrangement by North Carolina composer, Andrew Harris, titled The Stars Above. The performance will also include works by 2021 Harlan Duenow Young Artist Concerto Competition Winners, Zirui Yin, and Gavin Hardy.
One Song performed live at Methodist University - Feb. 4
​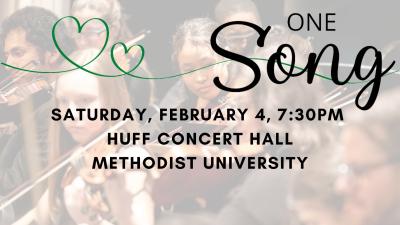 Presented by the Fayetteville Symphony Orchestra, Symphony on Tap is a new music series performed at local eateries with the goal to engage the community through music and beer. Admission is free.
Date Night @ Dirty Whisky (Violin & Cello Duet) - Feb. 10
Mardis Gras @ Heckler (Jazz Trio) - Feb. 21
Feb. 1
Open to singers and musicians of all types, this is your chance to perform in front of a live audience! Acts should be competent enough to perform but aren't required to be professional. The Jam is free and occurs every Wednesday.
Get ready to dance and sing along as live music acts perform at Paddy's Irish Public House. Admission is typically free before 9 p.m. Show and ticket information are available at www.distinctlyfayettevillenc.com/events.
LIVE THEATER
Feb. 3
Sweet Tea Shakespeare puts an unusual spin on Sherlock Holmes and Dr. Watson with a live play at the Fayetteville Pie Company. The interactive performance is set in the 1920s and is sure to include lots of laughs, beverages, and audience participation. 
Dates are Feb 3-5. Ticket info is available at www.distinctlyfayettevillenc.com/events.
The Complete Works of William Shakespeare (Abridged) at Gilbert Theater 
Feb 17 - March 5
Get ready for a complete rundown of William Shakespeare's works in just 97 minutes! Played out by three madcap men in tights, the show expeditiously explains all 37 of the English playwright's comedies, histories, and tragedies. The show is London's longest-running comedy. Tickets available at https://www.gilberttheater.com/2022-2023-season/.
Feb 1-19
Based on the book by Roald Dahl, Matilda is an extraordinary girl with an appetite for books. Her vivid imagination helps her dare to dream of a better life and become the hero of her own story. Tickets are available at www.cfrt.org.
COMEDY
Feb. 9
Enjoy open-mic comedy before sitting back and laughing out loud with national touring comedians Monte Allen and Trish Smart! Allen is a high-energy, extremely animated southern humor comedian that discusses everything from college life and DUIs to married life and children.
Smart is an edgier comedian who pushes the envelope on what women are sometimes expected and allowed to say out loud. Her style has allowed her to perform all over East Asia, Europe, and the U.S. Ticket info is available at www.distinctlyfayettevillenc.com/events.
Feb. 16
Let your inner comedian shine through by participating in open mic night! Open to new, up-and-comers, and professional comics, there's a spot for everyone at the Comedy Couch. Show headliner Lee Hardin has performed nationally at the Laugh Factory, Broadway Comedy Club, and Live at Gotham. Ticket info is available at www.distinctlyfayettevillenc.com/events.
Feb. 23
Enjoy open-mic comedy before sitting back and laughing out loud with headliners Ben Jones and Robert Every. Jones tours the U.S. and jokes about his life on the road as a comic, his beef with normalcy, and his life at home with his ball-busting wife.
Every is a North Carolina-based comedian known for his opinions on his 30s, family, and growing up in the inner city.