Fayetteville, North Carolina is a town full of history and stories, from our roots in the Revolutionary War to our place in the annals of baseball, we're a city full of surprises. Read on for a few facts about Fayetteville that'll make you say, "I didn't know that" or, at the very least help you out on trivia night.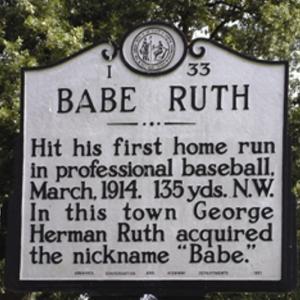 1. In 1914, a young George Herman "Babe" Ruth came to Fayetteville as a member of the minor-league Baltimore Orioles and hit his first home run as a professional baseball player. On his second at-bat, he sent one yard, sailing the ball an estimated 350-400 feet from the plate.
Bonus Fact: "Babe" earned his nickname here. The team manager, Jack Dunn, saw the talent in young Ruth and showed him a little favoritism. Well, sportswriters noticed and started calling him "Jack Dunn's Baby" and eventually "Babe." The name stuck and here we are.
2. Babe Ruth might have started it but, Fayetteville is a hotbed for athletes:
Six Fayetteville-area high school graduates have Super Bowl rings.
Three hold National Collegiate Athletic Association championship titles (in football and women's basketball).
Seven first-round draft picks (in the National Basketball Association and National Football League come from Fayetteville.
A trio of golfers have moved on from these Sandhill courses to play in the Professional Golfers' Association (PGA) and Ladies PGA.
3. Back in 1783, the towns of Cross Creek and Campbelltown merged and became Fayetteville, named in honor of Revolutionary War hero the Marquis de Lafayette. Fayetteville, North Carolina was the first of 13 cities and towns to carry the name (there are others in Arkansas, West Virginia, Texas, New York, Georgia, and more), and is one of 36 towns and cities named for the Marquis (Lafayette, Louisiana, being the most notable).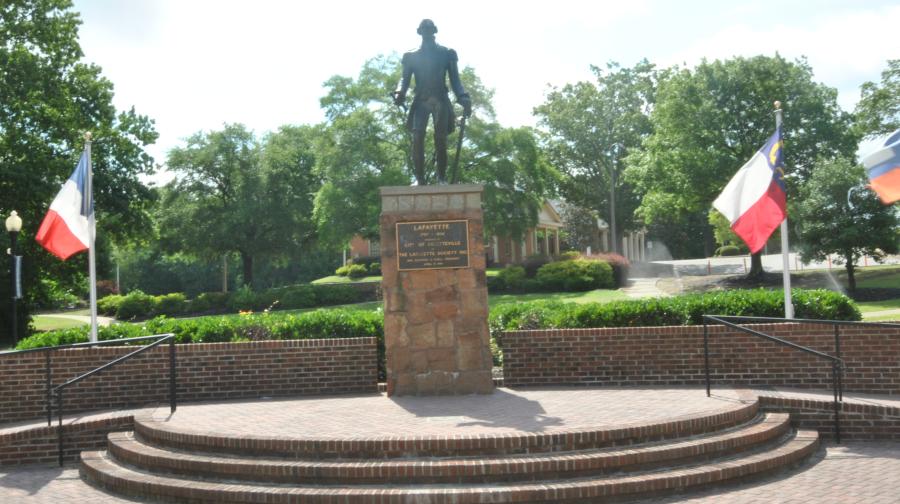 Marquis de Lafayette Statue at Cross Creek Park
As A Bonus: In 1825, the Marquis paid us a visit, making Fayetteville, North Carolina the only one of his namesake towns to have hosted this hero.
Secret Society Bonus: The Marquis stopped by Phoenix Masonic Lodge Number 8, built in 1793, while he was in town.
4. Speaking of the Revolutionary War, in 1775, 55 patriots joined together to write and sign the Liberty Point Resolves, protesting the actions of Great Britain against Colonists at the battle of Lexington and Concord, stating that, if necessary, they would "go forth and be ready to sacrifice our lives and fortunes to secure [our] freedom and safety."
5. In 1789, Fayetteville hosted the North Carolina delegates to the Constitutional Convention, and it was here that they ratified the U.S. Constitution at the Cool Springs Tavern.
Extra Credit: During that same legislative session, the University of North Carolina at Chapel Hill was chartered.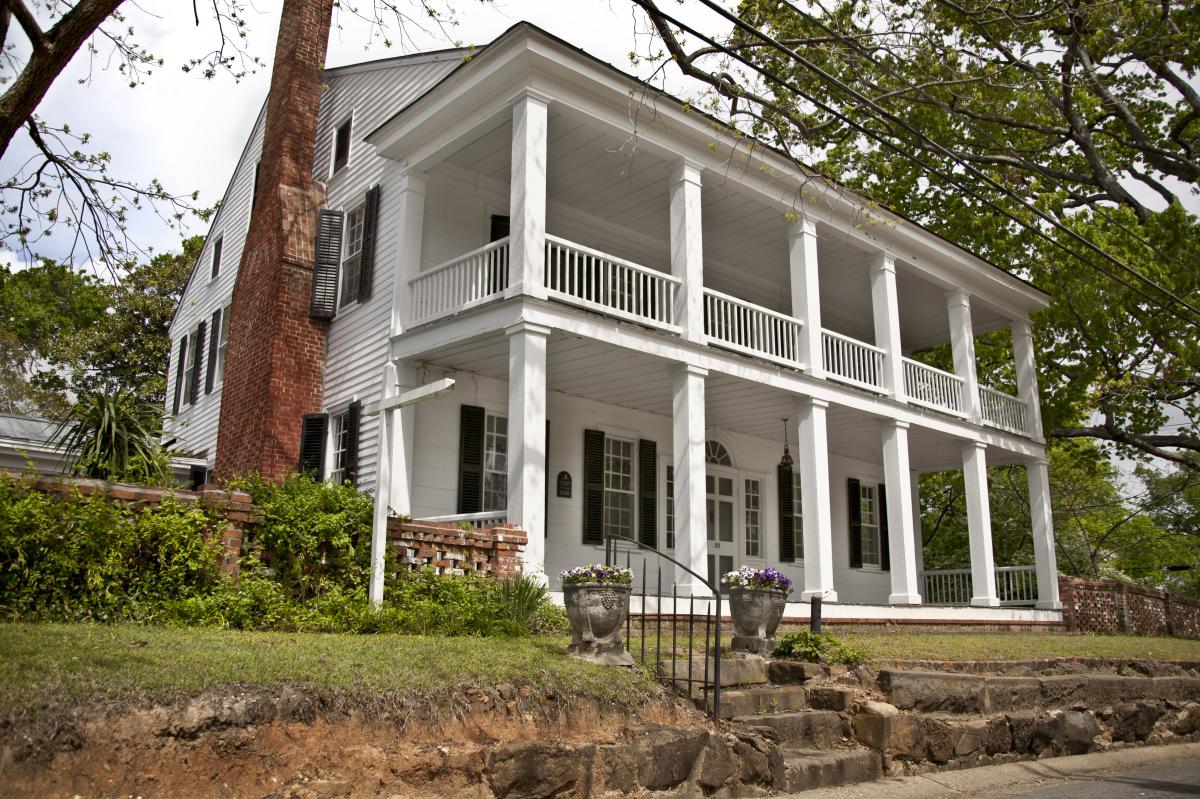 Cool Springs Tavern

Liberty Point
6. Fayetteville was almost the capital city of North Carolina, missing the mark by only one vote.
7. Our military history is more than just the Revolution.
During the Civil War, traitors to the United States seized a federal armory and turned it into a weapons factory for the Confederate Army. In 1865, Union General William T. Sherman took back the factory then razed it as he left town. The foundation is still visible today, and many of the stones and bricks from the walls went to help rebuild the city during Reconstruction.
During the final months of World War I, the U.S. Army purchased more than 100,000 acres and established Camp Bragg, later renamed Fort Bragg.
World War II saw Fort Bragg (now Fort Liberty) expand and become the nation's largest training post. By 1942, Fort Bragg had become the "Home of the Airborne" as the new Army Airborne element relocated paratroopers, equipment, and command elements here from Fort Benning, Georgia.
Today, Fort Liberty is the largest airborne facility and home to more than 45,000 military personnel, including the 82nd Airborne Division, the elite Green Berets, and the Golden Knights, the U.S. Army's parachute team.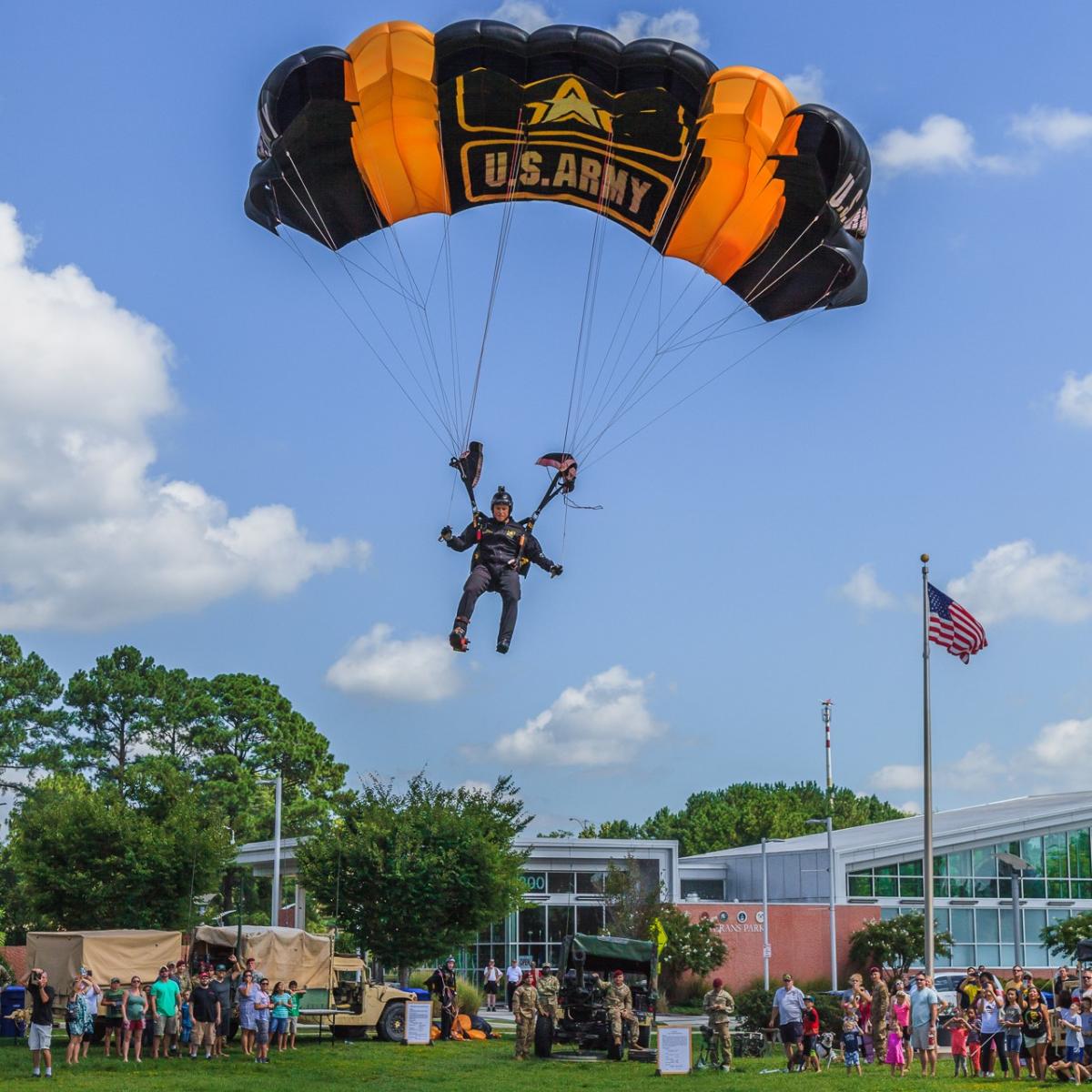 The Black Knights, the U.S. Army's Parachute Team
8. Stories and artifacts from Airborne and Special Operator missions, the Fayetteville Independent Light Infantry (FILI), (which was formed in 1793 under the direction of President Washington), The Fayetteville Rifle Guards (Colored), and Howard Light Infantry (a pair of historically Black militia companies), and other military contributions are told at the Airborne and Special Operations Museum, the Fayetteville Independent Light Infantry Armory and Museum, the John F. Kennedy Special Warfare Museum, the 82nd Airborne Division War Memorial Museum and other locations on our Patriots Past and Present Trail.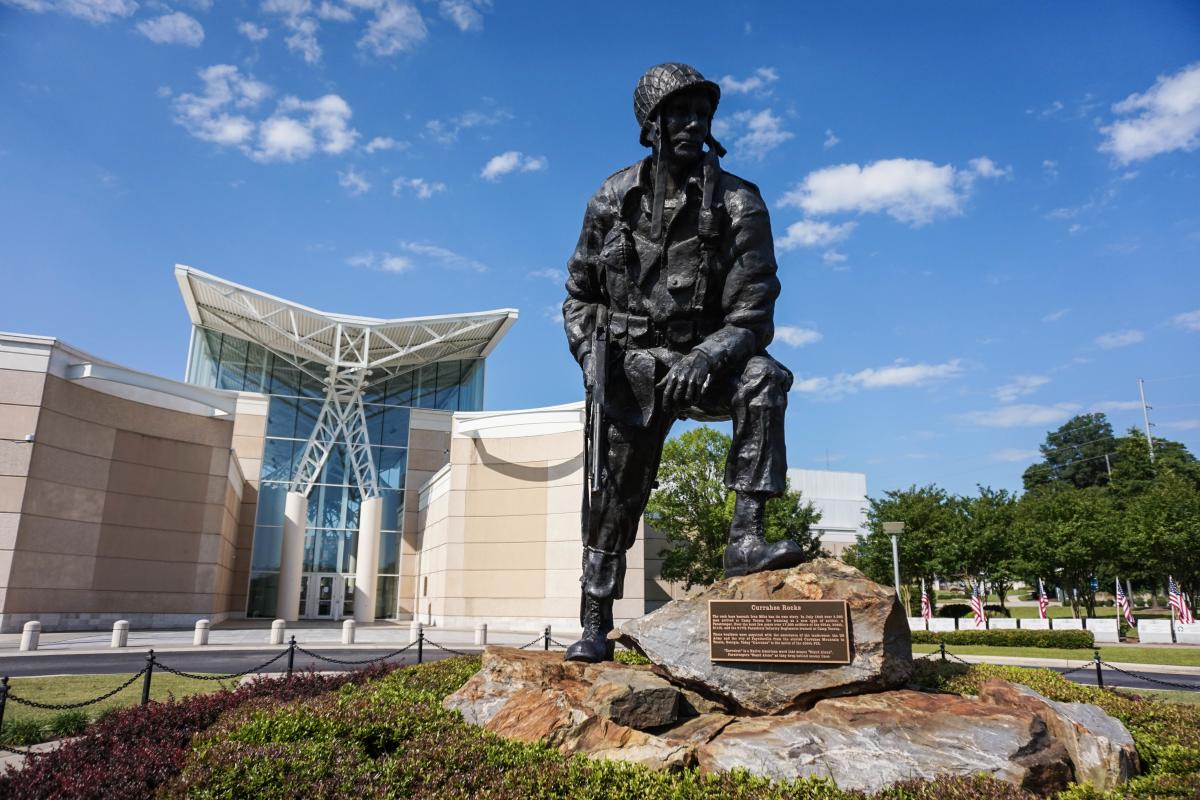 U.S. Army Airborne & Special Operations Museum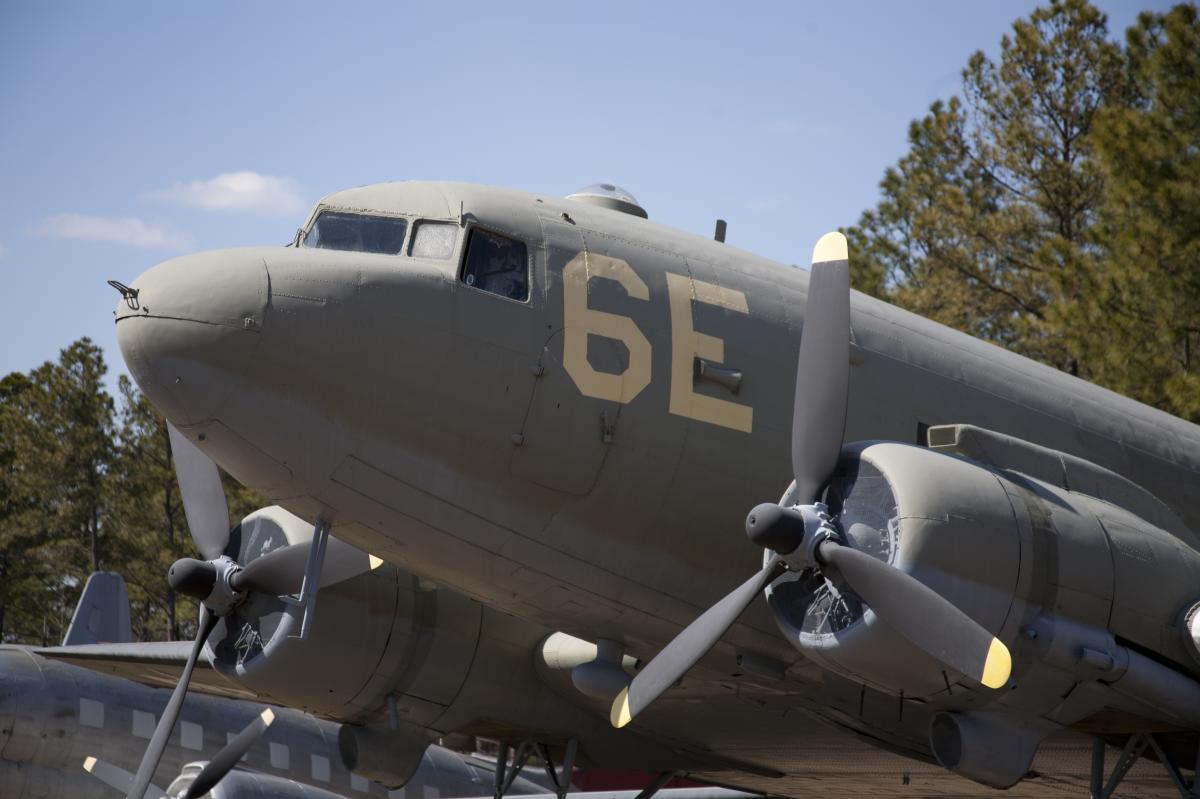 82nd Airborne Division War Memorial Museum
9. The Fayetteville Observer, our daily newspaper, is considered the oldest newspaper in North Carolina. Founded in 1816 as the Carolina Observer, it's been in circulation ever since, with one exception: the years from 1865-1883. In 1865, General Sherman razed the armory-turned-weapons-factory and burned the newspaper offices to the ground; it took the owner a few years to the newspaper back up and running, but it's been going strong since.
10. Saint Ann Catholic Church, part of our African American Heritage Trail, was built in 1934 as an all-Black Catholic Church (Saint Patrick served White parishioners), but Saint Ann Catholic School was integrated from its founding, the first such school in North Carolina.
11. Don Clayton created the first Putt-Putt in Fayetteville in 1954. The former insurance salesman was frustrated by the windmills, waterfalls and other "junk" he played through on a miniature golf course, and he vowed to design something better. He laid out his geometric, organized course using 3-by-5 cards, and soon was charging 25 cents for 18 holes. After just one year, this golf enthusiast was selling franchises.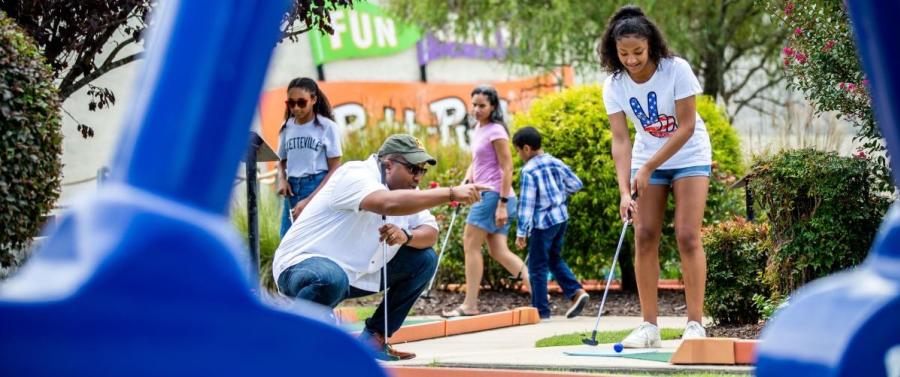 Putt Putt Fun Center
12. Tasty Tidbits
The nationwide buffet chain, The Golden Corral, started here in 1973 as a single restaurant, Golden Corral Family Steakhouse.
"Chef Judy" Cage, Army veteran and owner of several culinary endeavors around town including Uptown's Chicken and Waffles, has appeared on four different Food Network shows including Supermarket Stakeout, where she took home a victory (and the bragging rights and prize money) in 2019.