It's a New Year, so the New You is probably ready to try something new and exciting. Don't fret, because there is always something to do in Fayetteville! You just need to know where to look! Here is DistiNCtly Fayetteville's short list of what's going on in January: 
Fayetteville Marksmen Hockey 
Scream your lungs out while showing your support as the Fayetteville Marksmen take on all comers and make a big push for the playoffs! 
The team squares off against Southern Professional Hockey League rivals Roanoke Rail Yard Dawgs and Peoria Rivermen during weekend games in January, so the whole family can attend. 
Single- and multi-game tickets are available.
Fayetteville Area Museums 
U.S. Army Airborne & Special Operations Museum (ASOM)  
This month, ASOM is hosting a new exhibit, "Drawn to Combat: Bill Mauldin and the Art of War." It explores the Pulitzer Prize-winning cartoonist's career in documenting and sanitizing military life. The exhibit runs through June 11.  
Museum of the Cape Fear Historical Complex 
Learn about Fayetteville's storied past through permanent exhibits at the Museum of Cape Fear Historical Complex. Featured presentations include the American Indian, Early Exploration and Settlement, Civil War, and Textiles exhibits. Free admission.  
Fayetteville History Museum 
History enthusiasts looking for fun can visit the Fayetteville History Museum in downtown Fayetteville. Located in a beautifully restored historic railroad depot, the museum offers two floors of engaging, artifact-filled exhibits. Popular attractions include the steamboat interactive display and recreated Station Agent's Office. Visitors can also take downtown walking tours from the museum. 
Fascinate-U Children's Museum 
Spend some quality time with the kids by visiting the Fascinate-U Children's Museum in downtown Fayetteville. Visitors experience the thrill of role-playing while learning new things while touring the museum. Children of all ages welcome. 
Walking Trails and Parks 
Wintertime is still the right time for outdoor exercise and activities. Fayetteville Cumberland County Parks & Recreation offers a variety of parks, playgrounds, ball fields, and recreation centers to help you achieve your New Year's fitness goals.  
Try a leisurely stroll at one of the areas walking or hiking trails for starters. You can even take your dog along!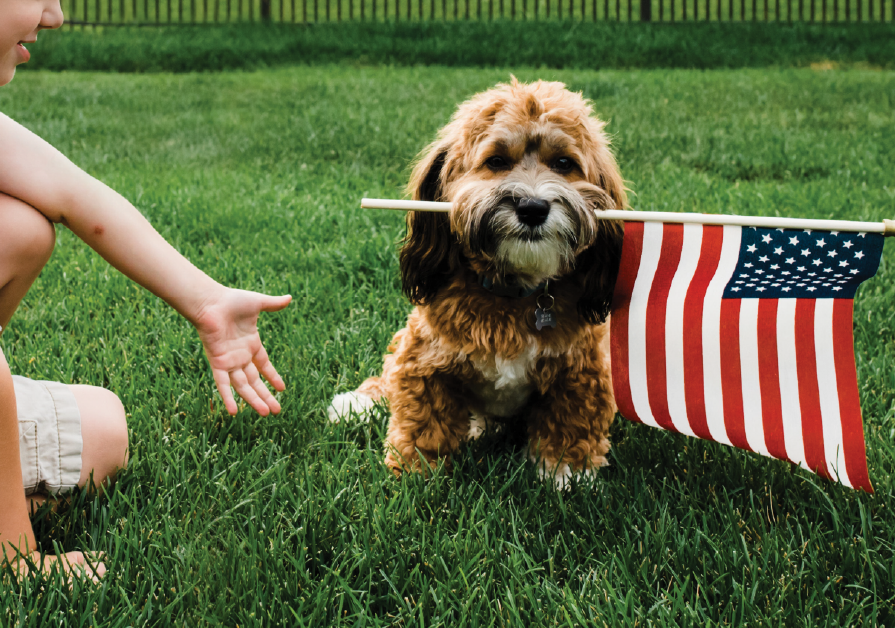 Cape Fear Regional Theatre 
Help support the community arts by taking in a live comedy, musical or drama at the Cape Fear Regional Theatre, the city's oldest and longest-running live community theater. Individual and season tickets are available. This month's production is: 
Matilda the Musical – Jan. 26 to Feb. 19 
The TONY Award-winning musical details the story of Matilda, an extraordinary girl with an appetite for books. Her vivid imagination and desire for a better life eventually helps her become the hero of her own story.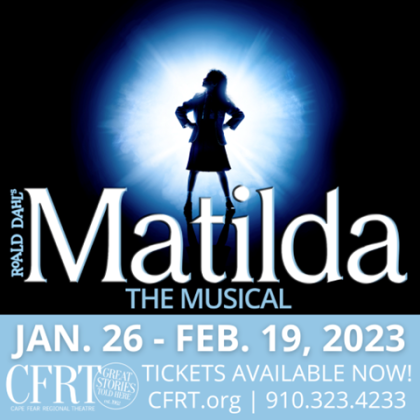 Fayetteville Symphony Orchestra 
Take a break from iTunes and Spotify and listen to some live classical music for a change. Since 1956, the Fayetteville Symphony Orchestra has been educating, entertaining, and inspiring area residents through its community concert series.  
Now is the perfect time to see the orchestra perform live. But don't wait! The symphony plays just eight concerts a year. So, get your season tickets now and support a great community resource! This month's concert is: 
Jubilet Deo – Saturday, Jan. 21 / 7:30 p.m.  
Dan Forrest's Jubilate Deo is inspired by the Psalm 100 text, "O be joyful in the Lord, all ye lands." The lavish arrangement includes movements in seven different languages and draws from a range of musical influences.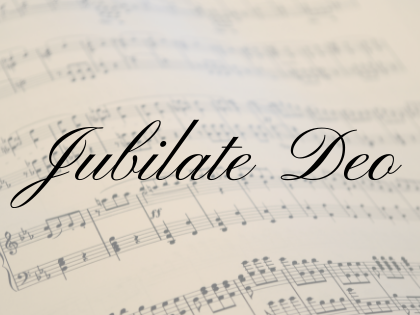 Stand-Up Comedy Open Mic Nights 
Have what it takes to make the room laugh? Put it to the test during a standup comedy open mic night. Get good at it and you might become the next Jerry Seinfeld or Dave Chappelle. Open mic opportunities in January include: 
The Sweet Palette Open Mic Night – Every third Friday of the month at The Sweet Palette starting Jan. 20 
The Comedy Couch Open Mic Comedy Experience – Thursday, Jan. 19, at Paddy's Irish Pub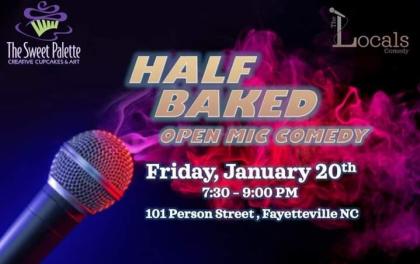 Fayetteville Pie Company and a Play 
Enjoy a hot baked meal at the Fayetteville Pie Company while watching Sweet Tea Shakespeare's modern take on the classic novel 20,000 Leagues Under the Sea – either in person or online.  
Audience members can choose to be bystanders or actively participate in this interactive adventure! The play runs Fridays through Sundays from Jan. 20 to Feb. 5. Advance ticket purchase is highly recommended because seating is limited. The show can also be watched online.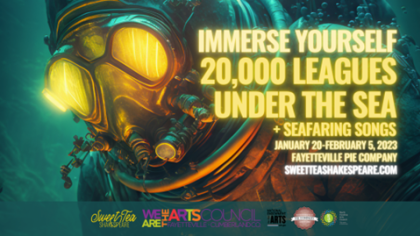 Cape Fear Botanical Garden 
Located just five miles from Interstate 95, Cape Fear Botanical Garden offers 80 acres of well-preserved natural beauty that connects everyone to nature. Everything from educational programs for children and adults to onsite private venues are available to the public.  
Kids Night Out at the Garden: Glow in the Dark – Friday, Jan. 13 / 5:30-8:30 p.m. 
Parents can take the night off while the kids enjoy the night out. This month's theme is glow in the dark. Make glow-in-the-dark perler bead art, learn how animals can glow in the dark, create glow-in-the-dark slime, and end the night with a campfire and s'mores. Ages 8-12. 
DIY Bath Tea Workshop – Thursday, Jan. 19 / 6-8 p.m. 
Create your own calming and tranquil bath tea while learning how to combat dry winter skin. Mix your own Bath tea with recipe examples. Then learn to create your own combination for the perfect fragrance. 
Yoga in the Garden – Thursday, Jan. 26 / 6-7 p.m.  
Practice calming eastern exercises taught by instructor Ashley Clayton. All levels are welcome! Yoga is held every Thursday from 6-7 pm indoors or outside, depending on the weather. Yoga classes are included with the cost of admission or membership to the Cape Fear Botanical Garden. 
Practice this calm eastern exercise taught by instructor Ashley Clayton. All levels are welcome!…
Fayetteville Spas 
Finally, start the New Year right with a little pampering and relaxation. Enjoy everything from meditative aromatherapy and herbal teas to facial skincare and alternative therapies at one of the local day spas and wellness centers. Make it a date and take your friends, spouse or significant other. Happy New Year, Everyone!