North Carolina Beer Month is a statewide celebration of craft beer, and our five microbreweries are here for it! I'm dishing on all the new and exciting developments going down at each one of Cumberland County's breweries in 2019. They're celebrating a grand opening, welcoming a celebrity chef, launching a superhero-inspired IPA series, throwing a big birthday bash, and introducing an array of new cuisine. And that's just the tip of the iceberg! Discover all our "Hometown Hops" this April.
#DYK North Carolina boasts the largest number of craft breweries in the South?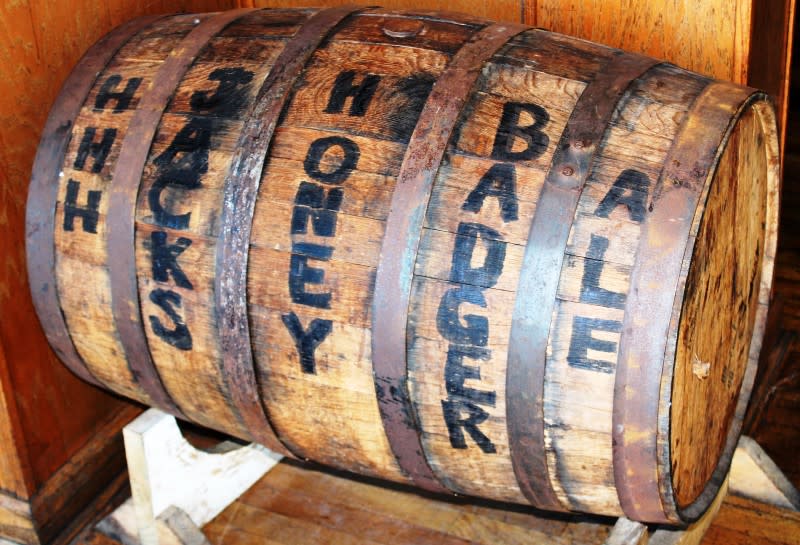 Huske Hardware House's fascinating history as a hardware store dates back 116 years
Our oldest brewery can proudly boast it was part of the very early revitalization efforts in Downtown Fayetteville, starting when they opened their doors in the historic Huske Hardware House 22 years ago. With our new baseball stadium now located across the street from HHH, we're already predicting that Huske and its adjacent TapHouse will be very popular with ballgame attendees, both before and after games. Because they're also planning ahead for the baseball boom, Huske has recently added 14 new items to their menu. After taste-testing a few of them myself, I find it well worth highlighting their new cuisine here.
Since downtown doesn't have a steakhouse dining option, Huske was smart to add to their menu the Huske Signature Cowboy Cut Ribeye—a 16-ounce, bone-in Angus beef rib-eye, with sunrise potatoes and fried brussels sprouts. For an alternative to beef, there's a signature dish for just about any taste—from Sautéed Jumbo Shrimp to 1/2 Roasted Herb Chicken to even a Cavatappi Pasta vegetarian option. Additionally, there are six new appetizers, perfect for sharing, and four new "between bread" options.
#DYK the TapHouse has 80 brews on tap—more than any other venue in Cumberland County?
One of their new dishes that excites me the most is something you just don't find much in the South, let alone Fayetteville, and that's a Connecticut Lobster Roll. My coworker and I recently indulged in this classic Northeastern treat, and we agreed it is the best thing we've been served by a restaurant in a long time. All you need to know is it's made with a generous portion of delicate lobster meat and served on a toasted lobster roll, with a little cup of warmed butter, a lemon wedge, and a side of "super slaw." Connecticut and Maine can continue to battle over the superiority of their lobster roll recipes. Meanwhile, I'm perfectly content—in fact, over the moon in love—with Huske's simple-yet-decadent presentation of this classic.
Besides the lobster roll, my coworker and I also had to get on our hands on their Extreme Nachos. To be honest, I'm usually disappointed when I order nachos from restaurants, but Huske did not disappoint these two Texans. Mounds of green chile queso, house-made chili, guacamole, sour cream, and pico de gallo cover a plate of multi-colored chips. Since it's the little things that impress me the most, I appreciated how they adorned these nachos with fresh jalapeno slices. When I return, I'll be trying more of Huske's new dishes, to include their North of the Border Nachos, but I really don't think anything can beat the decadent Connecticut Lobster Roll or Extreme Nachos. Regardless, I also plan to get my hands on Huske's new Peach Fork Saisson, a beer inspired by a midnight revelation.
#DYK every Friday and Saturday night, from 10:00 p.m. to 2:00 a.m., Huske offers folks 21 and up a nightclub type of experience during "Huske After Hours"?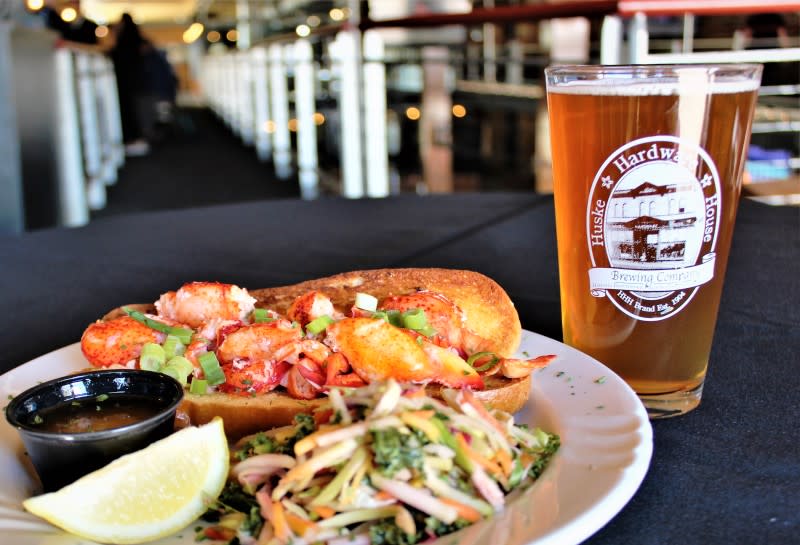 Huske's signature Connecticut Lobster Roll, paired with their flagship Level-Headed Blonde ale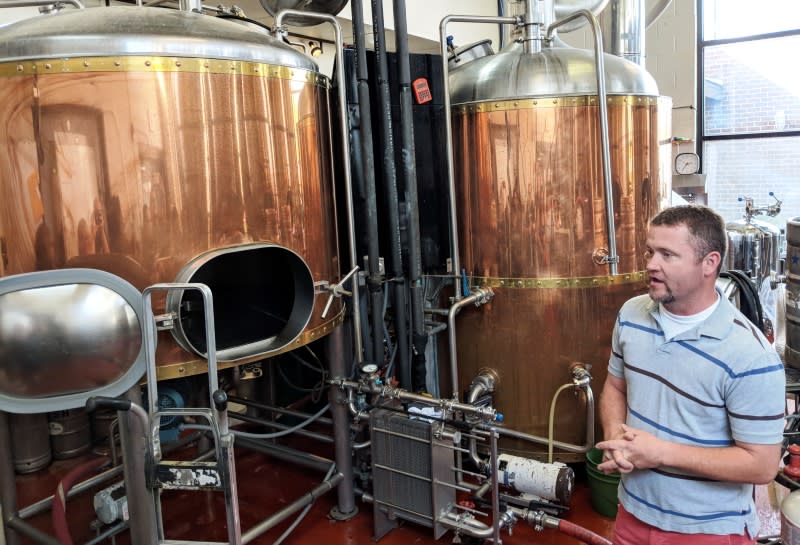 A behind-the-scenes peak from Mash House's brew-master, Reuben
If you've never visited Fayetteville's second-oldest brewery, this one also offers visitors an in-house restaurant, along with a full-service bar and lovely outdoor patio. When I first moved to Cumberland County, in 2003, I was delighted to discover Fayetteville had two breweries—something I naively thought was only "a thing" in Colorado. Now, in 2019, this centrally located establishment is still a popular choice with both our locals and our visitors.
#DYK Mash hosts Brains & Brews Weekly Trivia year-round, every Wednesday, at 7:00 p.m.?
Starting this month, Mash House will also be offering a range of new menu items. Hot wings lovers will be excited to hear about their Reaper Wings, which are coated in a super spicy sauce made with the infamous Carolina Reaper pepper. I'm a taco lover myself, so I'm thrilled to see the addition of Korean Kalbi Beef Tacos and Fried Shrimp Tacos. Having lived in Italy, I'm also interested in trying their new Pasta Bolognese. And just to make things even sweeter, Mash has added a Caramel Cheesecake Brownie to their already decadent dessert list.
#DYK Mash celebrates #NCBeerMonth with $3 select pints all month long?
Beyond the food, there's beer to discuss, of course. Specifically, let's talk about Mash's "Special Hoperations"—a line of four IPA's (India Pale Ales) that are inspired by some unique superheroes. These four brews are on a mission together: "to take down the evil villain 'Dr. Bland' and his boring macrobrewery beer." Now, if you're a craft-beer lover, you know brew-masters get clever when naming their brews. Mash has already debuted the first beer in their Hoperations' line, and it's appropriately named "Hoptimus Prime." Be on the look-out for "Galaxy Girl" to be joining the superhero crew of IPA's over the next month, with the remaining two to make their debut over the coming months.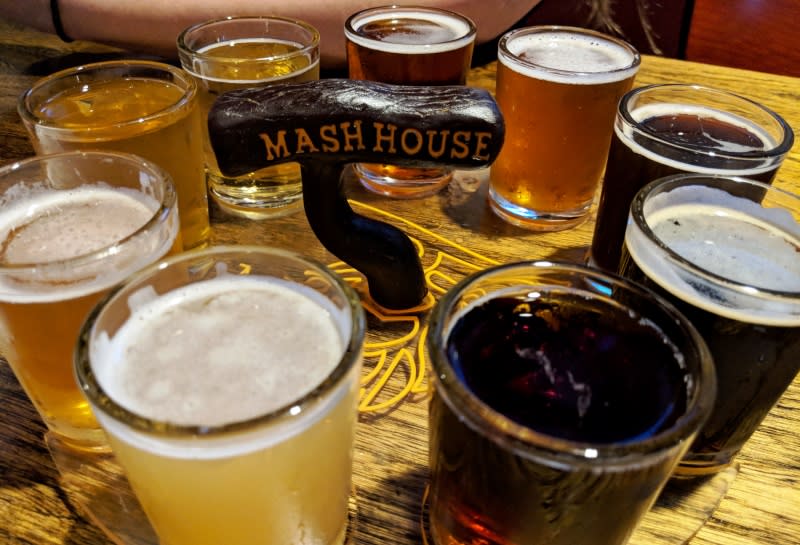 Ordering the Mondo Mash, a 9-beer sampler, is a must when visiting Mash House the first time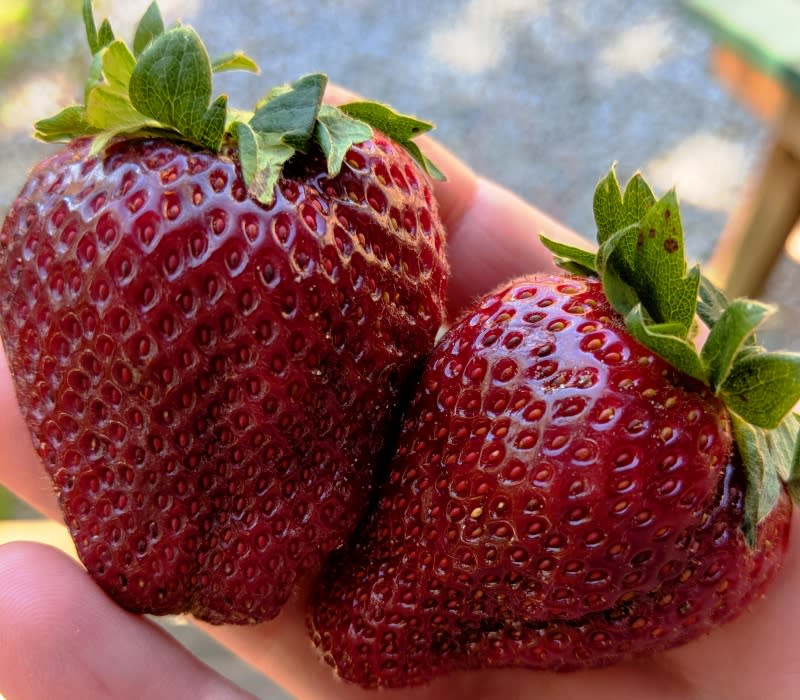 Perfect strawberries from Dirtbag Ales Farmers Market
If you follow my blog, you know I've been eagerly anticipating the opening of Dirtbag Ales' brand-new site since I first took a tour of the grounds a year ago. They're finally done building their 8,000-square-foot brewery and are continuing to add on to what I'm now calling "an entertainment complex" on their six-acre site. I'm just impatiently waiting to hear them say the magical words, "We're open for business!" I won't rehash all the things I've shared about DBA's growth on the blog before, but I do want to highlight the biggest thing DBA has planned during #NCBeerMonth.
#DYK Dirtbag celebrates #NCBeerMonth with a Firkin Friday and Small Batch Saturday every weekend in April?
Visit the Sandhills in April and you'll discover how much we love strawberry season here. Just like last year, DBA will be throwing a Strawberry Festival, and this two-day fest is scheduled for Saturday, April 27th, and Sunday, April 28th. Not only is this festival a perfect way to celebrate #NCBeerMonth, but it also serves to launch their weekly Dirtbag Ales Farmers Market, which is organized and run by Sustainable Sandhills. Festival-goers will be able to shop for vegetables, meat, milk, baked goods, and flowers, as well as a wide range of artisan and artist creations. Even better? DBA has just finished building a gorgeous, 60-x-40-foot pavilion, which will provide a wonderful shade covering for the market.
As for the beer, Dirtbag is headed out to a local strawberry farm, where their staff plans to hand-pick 200 pounds of strawberries for a special brew. This year, that beer will be a strawberry hefeweizen—a first for Dirtbag Ales to make. Hefeweizen is an unfiltered German wheat beer and quite possibly my favorite brew, so I'm stoked to try this. You'll be able to purchase the hefe, plus all their flagship brews and more inside the brewery, through a walk-up window on the back porch, and from their mobile beer cart outside.
#DYK Dirtbag produced over 20,000 gallons of beer in 2018?
You can also expect live entertainment all weekend, thanks to Chris Sorrells, Emily Musolino, and Ethan Hanson. On Sunday morning, you'll be able to join Hayat Yoga Shala for "Beer, Brunch & Yoga," and pickup sports games will be happening on DBA's regulation-size sports field, as well. Lastly, throughout the two-day fest, an impressive line-up of rotating food trucks will be keeping everyone fed well: 32 Degrees, Authentique Café, Berri Bowlful, Frozen Spoon, R Burger, Rome N' Round, and more.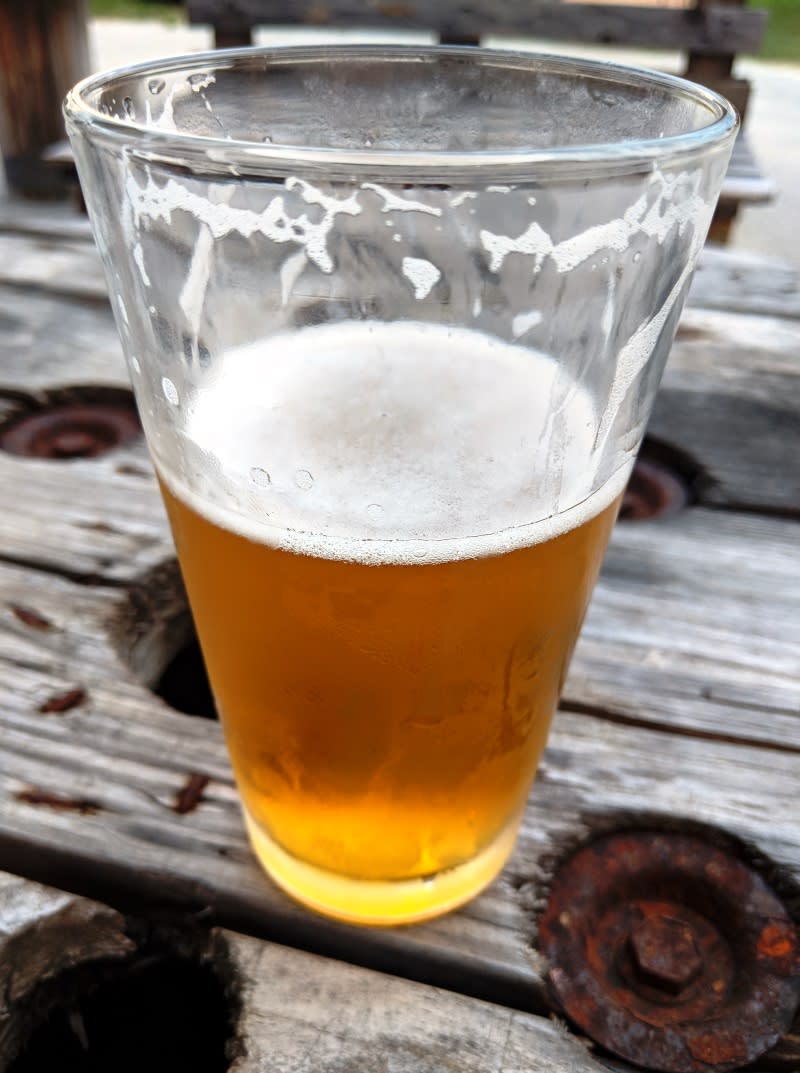 Dirtbag Ales' flagship beers are Blood Orange Kölsch, The IPA and Cold Brew Mocha Porter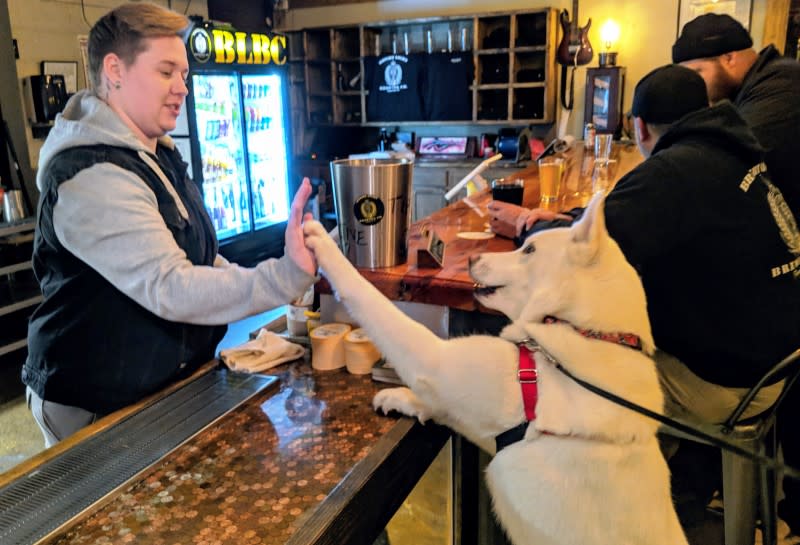 My fave pic of the year was taken at Bright Light of Bartender Trisha Greive and her buddy Nuke high-fiving
This downtown brewery has grown so much since they opened nearly two years ago that they recently expanded their hours to seven days a week. They've also purchased a nearby warehouse, which they plan to use for brewing and to remodel for a larger taproom. In the meantime, I continue to be amazed at the growing popularity of this brewery. Pick any night of the week and you'll find something exciting going down. Thursdays are always trivia nights, and I'm especially excited to see two upcoming challenges on their calendar: Baseball & Fayetteville Trivia on April 4th and NC Beer Month Trivia on April 11th.
#DYK Monday Madness is when BLBC offers $4 pints and Taco Tuesday Boozeday is when wine is half off, year-round?
If you ask any Bright Light employee, they'll tell you their favorite patrons are the dogs who frequent their taproom. All the owners and bartenders know their furry regulars by name, treat them to dog biscuits, and make sure they have water bowls. I find it really hard to resist making friends with so many of BLBC's regulars, to include the prettiest husky you've ever seen, Nuke (featured in picture above). That's why it's no surprise to me that you'll find BLBC serving their signature brews at Cape Fear Botanical Garden's Dog Day in the Garden, on April 6th.
You'll also find all kinds of fur babies celebrating with BLBC at the biggest event they have planned during NC Beer Month, It's Our Birthday! Yep, it's Bright Light's second anniversary, and they're throwing themselves a big birthday bash on April 20th. Just like last year, BLBC will be roping off their parking lot for the all-day, festival-style party.
#DYK Bright Light will have rickshaws onsite to take you back and forth from your parking spot or other downtown destination during their birthday bash?
The whole family will be able to enjoy throwing axes with Axes & X's Throwing Range, jumping in a bouncy castle, and playing corn hole. Of course, live music is always happening at Bright Light, as well, so the popular Open Road and Lotus Sun bands will alternate providing the entertainment. R Burger and California Taco will be serving up their customers' faves all day long. As for beer, in addition to a throwback variety of BLBC brews and other NC brews on tap, they're bringing back their Mash House collaboration, the Lighthouse Stout. It's definitely going to be a party at Bright Light!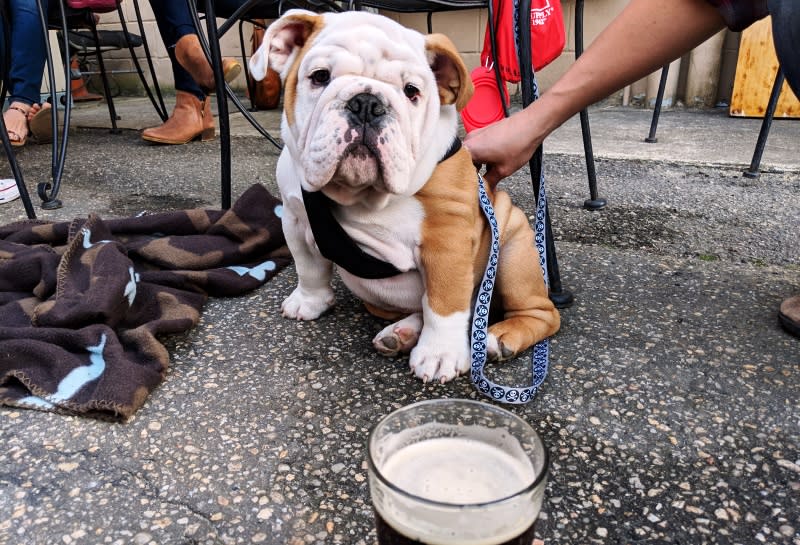 This precious bulldog pup recently stole my heart on Bright Light's patio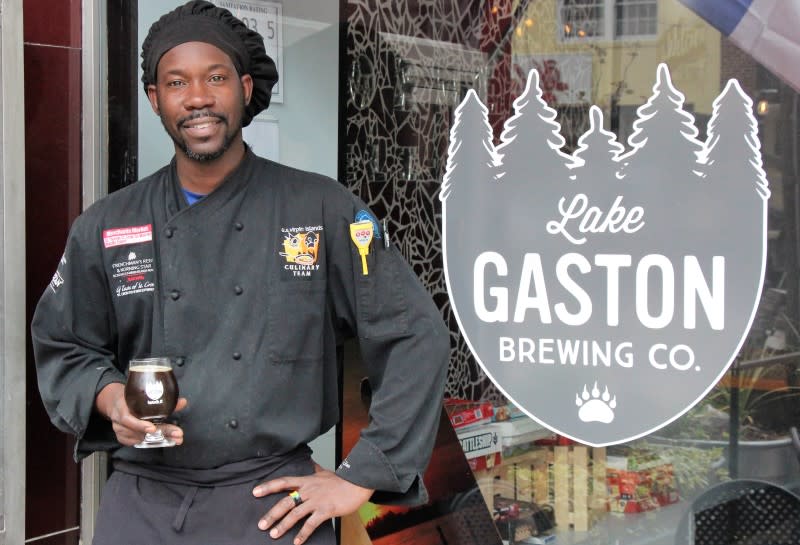 Gaston's new Executive Chef, Theo Gumbs, is ushering in exciting changes at this brewery
Fayetteville is now home to a celebrity chef! That's right. Gaston recently brought on Chef Theo Gumbs as their Executive Chef. Born and raised on the U.S. Virgin Islands, Chef Theo's been featured on several TV shows, to include Bravo's Top Chef and Food Network's Iron Chef America and Cutthroat Kitchen. If you Google his name, you'll find he's been making appearances and bringing his expertise to other shows, such as The Wendy Williams Show, for years now.
#DYK Wednesdays are when Lake Gaston serves $3 pints all day, year-round?
Chef Theo will tell you he's determined to put Downtown Fayetteville on the map as a top-notch culinary destination. Word has already gotten out about this chef's arrival here, and if you visit GBC on a weekend, you may have to wait a bit for a table; however, not only is this a sign of everything Gaston is doing so right, but it also means the experience is worth the wait. Look for this chef to be introducing all-new, made-from-scratch dishes to their menu over the next few weeks. In the meantime, he's already slid a couple of new treasures onto that menu. My coworker and I had the pleasure of indulging in them for lunch recently, and it's well worth sharing our insider intel with you.
If you know anything about the Caribbean, you know islanders love their fish, so it would only make sense that Chef Theo introduces his take on the classic Fish & Chips to LGBC's menu. Chef fries these beer-battered fillets to a golden-brown perfection and serves them with a rich, garlic-caper aioli sauce. The fries are hand-sliced (what a difference!), and the coleslaw serves as an acidic foil to the fried goodness on your plate. This signature dish is a must-try.
#DYK Gaston's new Pressed Porter beer represents a chocolatey, nutty collaboration between this brewery and their neighbor, Pressed – A Creative Space?
I also feel compelled to share what turned out to be our favorite dish of all, the Jerk Chicken Wings. If you have a tolerance for spicier dishes, then you need these wings in your life. Marinated in a jerk seasoning mix and served with a cool pineapple salsa, do not overlook this new menu item at Gaston! I suspect the Caribbean Jerk Chicken Sandwich would be just as rewarding of a flavor bomb, so that's on my list to try the next time I visit this brewery (i.e., very soon).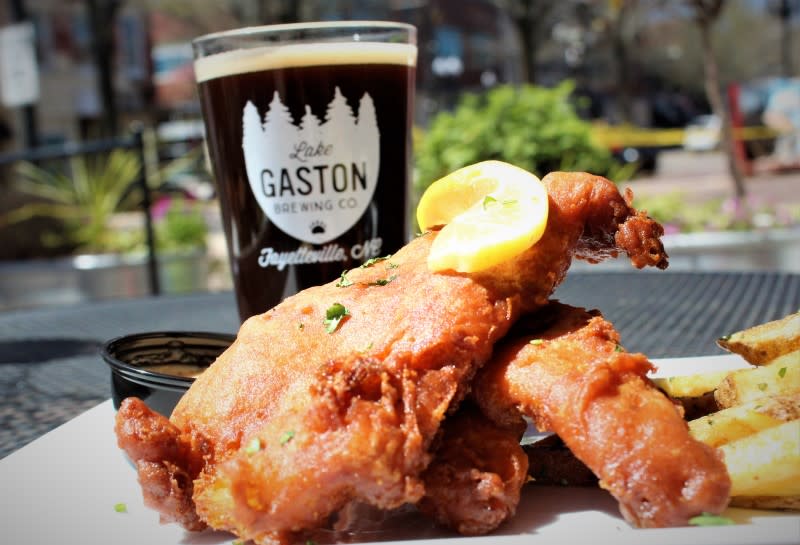 Chef Theo's signature dish is a special take on the pub-style favorite, Fish & Chips
Baseball + Beer
I'd be remiss if I didn't mention where three of our breweries' beers may be found outside their taproom walls, and that's our brand-new Segra Stadium, in Downtown Fayetteville. The Fayetteville Woodpeckers will play the first of 70 home games there on April 18th, and while you're taking in a game, you'll be able to sample beers from our own Mash House, Dirtbag Ales, and Bright Light. In total, Segra will feature 40 beers across 100 taps–between all the stadium bars and beer carts–and several of those taps will be dedicated to other popular North Carolina breweries, such as Southern Pines Brewing Company (Southern Pines), Highland Brewing Company (Asheville), and Foothills Brewing (Winston-Salem).
#DYK Mash House and Dirtbag will both be repping Cumberland County in Raleigh at Brewgaloo, NC's biggest craft beer festival, during the last weekend of April?
Speaking of baseball, spring is a celebration of America's pastime, and with the inaugural season of our Fayetteville Woodpeckers, we've never had more reason to celebrate that sport than now. Check out everything I had to share about our baseball history, teams, exhibits, and more on "Victory Means a Little More Here." Between that and #NCBeerMonth, you couldn't pick a more perfect time of year to plan a visit to the Fayetteville area. Book your Accommodations, explore your Dining options, and peruse the Calendar of Events. Then join us in Cumberland County–or as we like to call it, America's Hometown–for baseball and beer!