Untapped & Unrivaled
By Jason Frye
Like many other early-American cities, Fayetteville was born on the banks of a river. The Cape Fear flows through town, headed south toward the Atlantic Ocean. The Cape Fear was an important river for coastal communities, and Fayetteville served as a deep-water port as trade traffic, explorers, and colonists would travel north on this liquid highway to reach the interior of first the colony, then the state of North Carolina. For generations, the Cape Fear River, Little River, and other streams, creeks, and tributaries that flow nearby have provided folks around Fayetteville with sustenance, a place to play, and some awe-inspiring beauty. When you come to Fayetteville, you may be wowed by the Longleaf pines that tower overhead, but look to the water—the creeks, rivers, ponds and streams—and discover new ways to enjoy your time in North Carolina.
Looking back on Fayetteville's history, while it's true we were born on the Cape Fear River, we originally started as two towns: Cross Creek, founded in 1756, and Campbellton, established just a mile away in 1762. It wasn't until after the Revolution that the two growing trading posts combined and became Fayetteville, named for the Marquis de Lafayette, a Frenchman who fought with Washington and the Continental Army to win our freedom. As Fayetteville, we grew up on the river, crossing it on ferries until 1819, when our first bridge spanned the Cape Fear, and using these waters as our highway, playground, and food source.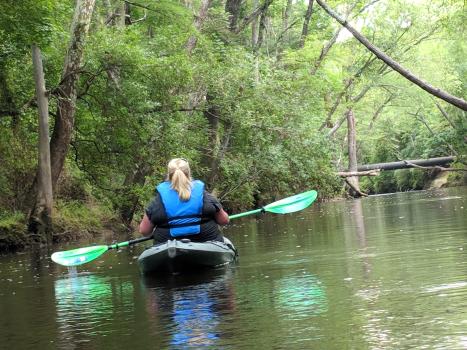 Today, we launch our fishing boats, kayaks, and canoes, and our standup paddleboards just steps away from where that original ferry crossed; at Campbellton Landing, Deep Creek Outfitters NC keeps our connection to the river strong, with fleets of anglers, pleasure-boaters, and paddlers taking to the water every day. Fishing in the river offers up challenges to anglers as the currents, banks, bottom, and channel provide the perfect cover for fish of all sorts. Drop in a line and expect to reel in large-mouth, striped, and spotted bass; American shad; catfish; and more.
Not feeling so confident in your angling prowess? Don't worry. If you're looking to improve your techniques or fishing knowledge, register for a class or talk at the John E. Pechmann Fishing Education Center. Here, you'll get more than a crash-course in fishing; you'll have fishing enthusiasts and lifelong anglers helping you out with knot tying and casting techniques, teaching you to read the waters for the best places to drop a line, and instilling their passion for the sport into you.
Next door to Pechmann is Lake Rim Park, the perfect spot to practice your new techniques and even those pesky fishing knots. The park has a fishing tackle loaner program so you can try out different rigs to see how they feel or to see what the fish are biting. There's also a boat ramp, launch for paddle-craft, and fishing pier here, expanding your options when it comes to casting a line.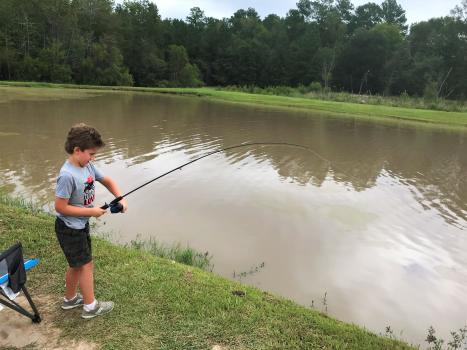 At Cedar Creek Fish Farm, you'll have an easy day reeling in a keeper. This veteran-owned business raises catfish and tilapia, and anglers with a valid NC fishing license are welcome to come drop a line and fish any time they're open. While there is no charge to fish here, you'll pay by the pound for everything you catch.
Once you've built up a little confidence in your casting and reworked your reeling technique, we have more than two dozen lakes, ponds, creeks, and rivers where you can try your hand at catching something photo-worthy. Our Fish & Game Trail has directions and notes on almost all of our favorite spots in the county (hey, you have to hold back a favorite fishing hole or two).
At McFayden Lake, it's youth-only fishing, giving the 15-and-under set a chance to hone their skills. At Glenville Lake, at Mazarick Park, fish from the pier or bank; just don't forget to check on their tackle loaner program. The 14-acre Keist Lake, the 8-acre Holland Lake, and the 31-acre Little Muddy Lake are also fishing hotspots, with bass, bluegill, bullheads, channel catfish, bluegill, and more biting in those waters.
Fishing isn't everyone's idea of a good time, but being on the water is nearly universal. You can enjoy a 3-mile trek along the Lower Little River with Spring Lake Outpost (SLO). The Little River flows into the Cape Fear, so the opportunities for exploration are wide open. This 2-hour paddle and float is a fun one, and with plenty of kayaks, double kayaks, canoes, and tubes to choose from, you'll find the time flying by. Or you can join SLO for a nighttime paddle, an experience that's made all the wilder thanks to the lights on each kayak. Even better, SLO's shuttle is there to pick you and your watercraft up after your adventure is over.
There are even more ways to enjoy the water around Fayetteville. Yakalacky Outfitters rents kayaks, canoes, standup paddleboards, and more for self-guided exploration on both Hope Mills Lake and Lake Rim, giving you the chance to choose your own adventure. Lake Pines Swim Club—a beautiful, 2-acre, spring-fed swimming lake—gives you a chance to swim, dive, and frolic in the water or laze on the sandy shore.
After a morning fishing or paddling, you'll be plenty hungry. Riverside Seafood has the cure. At this seafood joint, you can get fried, grilled or steamed fish, shrimp, oysters, lobster tails, crab, and more. Start with an order of crab claws for the table while you study the menu, even though you know you're about to order a feast.
There's one more way to enjoy the water here in Fayetteville that's a little unexpected: ziplining. ZipQuest's zipline course will have you sailing over Carver's Creek and enjoying some gorgeous views of Carver's Creek Falls. The falls are picturesque but don't try to snap an Instagram-worthy pic while you're in mid-flight. Instead, wait until you're safely on the platform and take a few shots. Just don't forget to tag @visitfayettevillenc and use #VisitFayNC when you share those fabulous shots on social media.
Join Our Email List
Sign up for our emails to get the latest news, personalized trip ideas, and special offers that fit your interests!