Fayetteville's Golf Bragging Rights
The Sandhills of North Carolina – Pinehurst Resort with its nine pristine golf courses, to be specific – is the unquestionable epicenter of the game in the state, in the Eastern United States, in the entire nation for that matter. Hence, the destination has become known as the "Home of American Golf."
The roads leading away from the famed resort seem reluctant to give up on golf as well. Many layouts ranging from centerpiece courses in upscale golf communities to local municipal, scatter out in all directions. Each one promises bonus play for those seeking even more salve to soothe their golf itch while swinging their way through the Tar Heel State. This is particularly true for travelers driving east from their destination. Luring players in the direction of the rising sun is the city of Fayetteville and Cumberland County, where the most honorable definition of "military golf" abounds.
With its location right off Interstate 95 (as it slices through North Carolina from north to south), Fayetteville has golf courses that are actually easier to access from the big cities along the East Coast than its isolated neighbor situated an hour or so deeper inland. As the precise midway point for interstate travel between New York and Florida, Fayetteville also accommodates golfers with thousands of hotel rooms and hundreds of dining options.
In terms of variety, Fayetteville's golf arsenal also has an advantage. Though the majority of its golf landscapes share many of the characteristics Pinehurst has been blessed with, a few possess a style distinctly their own. That's because the city sprawls out across North Carolina's transition zone from the coastal plain into the soft, rolling crests of the Sandhills. This changing topography afforded world-class architects tremendous backdrops upon which to sculpt their works. So with more than a half dozen outstanding golf layouts to add to the already potent Pinehurst-area lineup, the game is well represented across the state's most sterile of habitats (with Fayetteville bolstering its eastern flank). The unique Sandhills microclimate keeps things a little cooler and less humid than most other regions, making it a great getaway at any time of the year.
Despite its proximity and its similar landscape qualities to the Home of American Golf, Fayetteville's golf presentation feels distinctly different. It is more influenced by a bigger commitment in town, that of national security. The city, in fact, is home to Fort Bragg, a major U.S. Army installation and the nation's largest population military base. In the more than 100 years since the fort was established, "Fayetteville and the U.S. military have been inextricably linked," as written in the Fayetteville Observer, the city's newspaper. And the spillover has even flowed into the golf courses around town.
In terms of prestige, the layout that likely solidified Fayetteville as a golf destination all it's own is Anderson Creek. Since so much hype in recent decades has been about upscale designs with big-name architects, the combination of 1997 PGA Championship winner and North Carolina product Davis Love III along with an outstanding community course, makes this reasoning hard to deny. But it takes a strong foundation to build a solid structure, and that's where classic designs such as Cypress Lakes, Gates Four, Bayonet at Puppy Creek, Keith Hills, and a pair of courses on base at Fort Bragg (Stryker and Ryder) validate Fayetteville's entry into the golf travel market.
A great place to start when teeing it up in town is at Anderson Creek Golf Club, located less than 10 miles from the front gates of Fort Bragg. It was Love III's first foray into golf design in his native state and brought a lot of national exposure with it. Located in an upscale, gated golf community, the Charlotte native's groundbreaking achievement has a distinct Pinehurst feel to it yet is more accessible and affordable than many of its western neighbors. Anderson Creek, which traverses rolling, sandy terrain similar to what famed designer Donald Ross began his legacy on, was named the state's "Best New Course" in 2001. The greens were designed to recreate the classical nature of Sandhills golf as they provide large roll-off areas and significant undulations.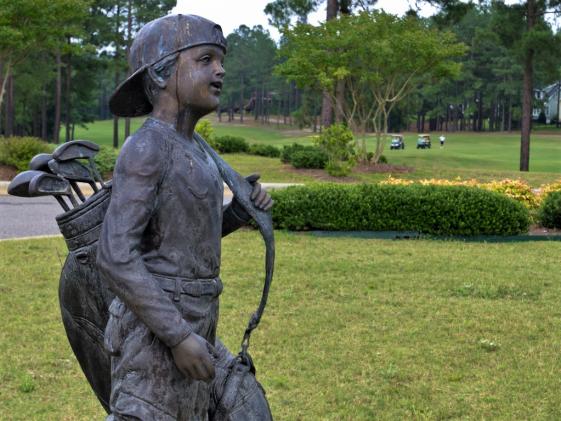 Anderson Creek Golf Course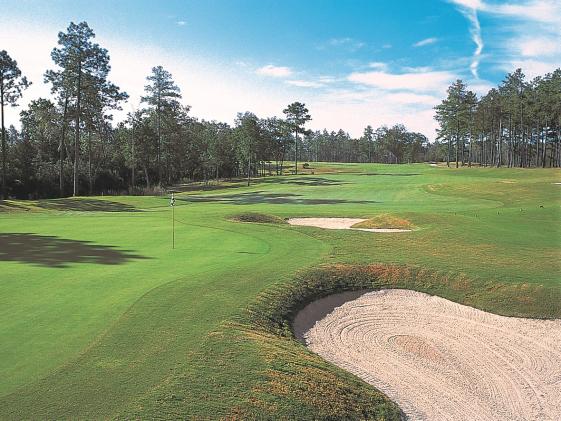 Bayonet at Puppy Creek Golf Club
Holding down the fort south of the city is Bayonet at Puppy Creek Golf Club, a name that obviously pays tribute to the military. This more traditional mid-1990s design by Willard Byrd was routed across rolling terrain that also borders the state's Sandhills and is fed by its namesake Puppy Creek. Along with the unique name, the course prides itself on great conditions due in large part to the years of turf-grass experience through the ownership of Carolina Turf Farms, Inc. Bayonet is a favorite of many in the military looking for a break from the daily routine.
Also to the south but farther east of Fayetteville plays a historically rich yet dramatically different looking challenge. Ideally situated just minutes off I-95 Exit 41, Cypress Lakes Golf Club is the original home to the Floyd family (including four-time major champion Ray Floyd) and is a delightful design that is starkly different from anything you will find in the region. That's because it winds through and around a number of picturesque ponds inhabited with cypress trees. Designed by Stuart Gooden in 1968, Cypress Lakes was lengthened in more recent years to test the modern game while retaining the spirit of a simpler time. It is a lavish panorama of Cypress trees, ponds and natural springs. If the vegetation doesn't astound players, the challenging greens and plush conditions will.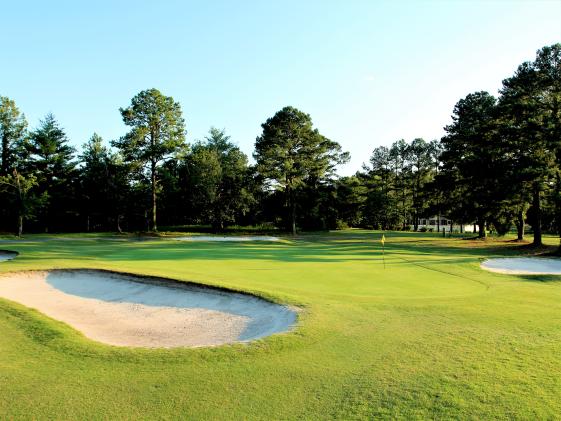 Cypress Lakes Golf Course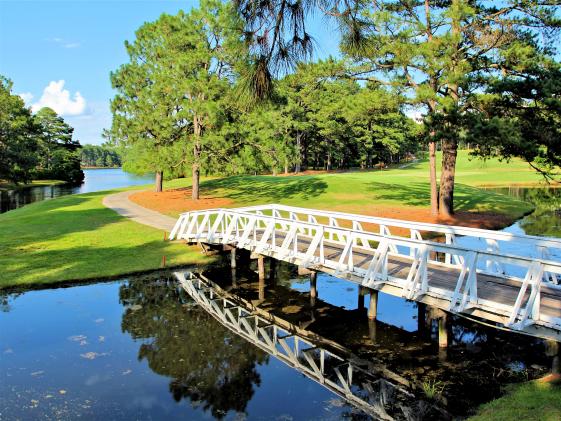 Gates Four Golf & Country Club
Gates Four Golf & Country Club also features a "restored" championship design as architect Kris Spence, careful not to disturb the original routing by Byrd back in 1967, completed a remarkable upgrade to the facility less than a decade ago. Included in the Gates Four makeover were the addition of new bent-grass greens, renovated bunkers and improved playing conditions across picturesque fairways lined with a variety of hardwoods and pine trees. For those who seek out the opportunity to play this classic design, they will also discover sparkling ponds winding creeks and wooden bridges that truly make this challenge exceptional.
Once there, they will discover how exciting and challenging Gates Four's upgraded course can be for all levels of golfers and enjoy the atmosphere of a full-service, private club.
To the north of Fayetteville is Keith Hills Golf Club, an original pair of Dan and Ellis Maples courses has been streamlined in recent years into three outstanding nine-hole rotations set along the Cape Fear River. Characterized by wide fairways and thick rough in the high season, the holes at Keith Hills play up to greens that are large and sloped. A number of elevated tee boxes make for dramatic tee shots as they allow players to stare down across primarily rolling, wooded terrain.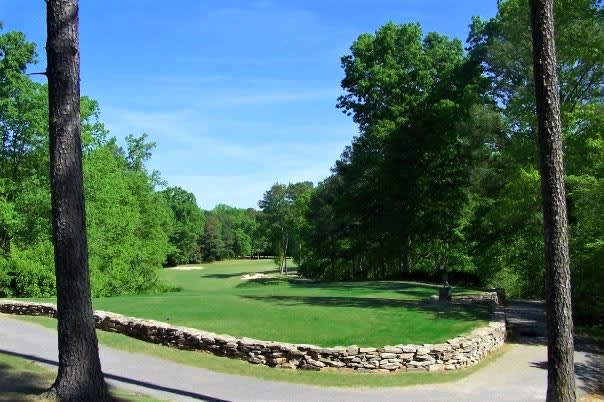 Keith Hills Golf Club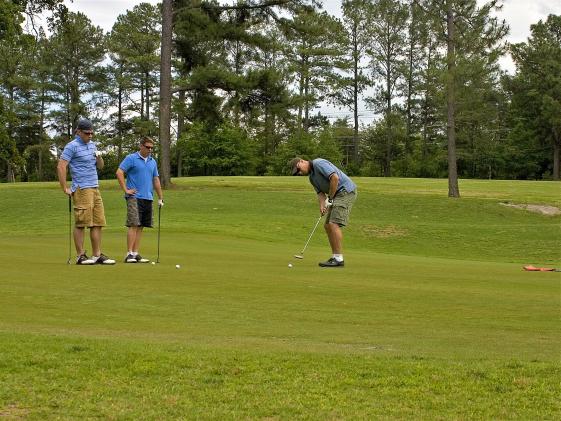 Ryder Golf Couse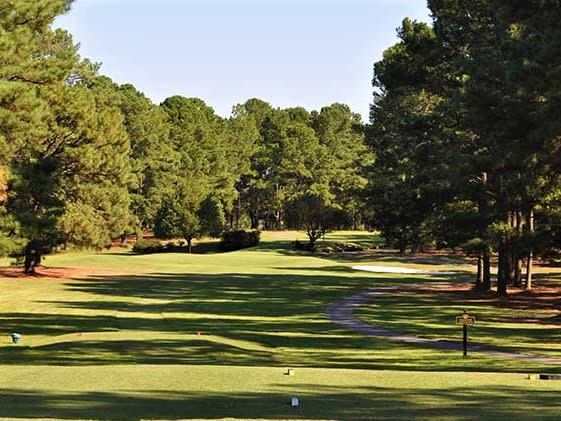 Stryker Golf Course
Fort Bragg itself – in the center of it all – has a pair of its own designs to "brag" about. The Ryder Golf Course is named for Brigadier General William T. Ryder, the Army's first paratrooper. It opened in 1930 as the Officers Golf Course of the Fort Bragg Officer's Club. Originally 27 holes, it was reduced to 18 holes in the early 1960s to make way for military housing and was renamed Ryder Golf Course in the early 1990s. In 2005 it became the first U.S. Army course to be recognized as a Certified Audubon Cooperative Sanctuary. It is set among tall Carolina pines and plays across the water and rolling hills. The fairways are tree-lined, and the green complexes are small and undulating. Bunkers are well-positioned throughout the course, and some can be quite deep. The Stryker Golf Course, meanwhile, was designed by famed architect Donald Ross and that alone is worth the visit. For those looking for a rather forgiving game with wide fairways and smallish greens in the classic tradition of Ross, this course is for you. 
A few other offerings in the Fayetteville region include King's Grant Golf & Country Club, designed by Jim Holmes in 1990 and Carolina Lakes Golf Club, an early Robert Trent Jr. design.
Hidden Gem
In all, Fayetteville golf is a hidden gem. Many travelers looking to play the game in the famed Sandhills of North Carolina may not realize the quality of the golf courses that the city showcases or the value they provide. The destination's courses remain quite affordable as compared with other higher-end golf regions and are worth the drive whether you are sliding over on quaint country roads from Pinehurst or heading their way directly via the I-95 superhighway.
Join Our Email List
Sign up for our emails to get the latest news, personalized trip ideas, and special offers that fit your interests!