When ladies travel together, they opt for the best places: Girls' trips insist on to-die-for meals, count on a bit of shopping, make time for spas, and plan to laugh all the way through. Plus, when ladies travel, they absolutely adore discovering out-of-the-way, affordable places that may not be on everyone else's radar. So ladies choose Fayetteville, a small city that lives large.
Afoot in Fayetteville
Put on your walking shoes and hit Hay Street and the surrounding downtown blocks. There you'll discover enough boutiques, antique shops, and galleries to fill a day. Fayetteville is small enough that you're more than likely to meet the people behind the storefronts who choose to make this city an interesting place to live, and yet large enough to support a variety of locally owned businesses.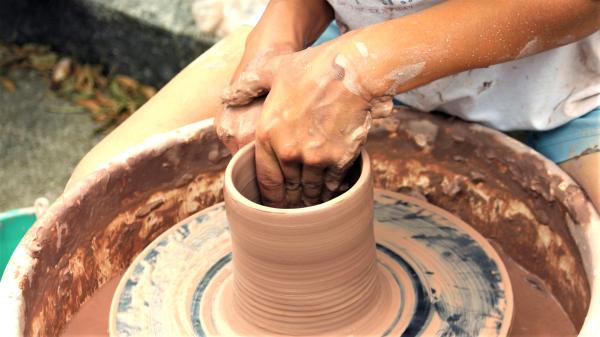 Artist at work at Cape Fear Studios 
Start at the Cape Fear Studios, where featured artists greet visitors and introduce the gallery's works. Even if you're not buying art, watching a piece being made is akin to owning a part of the work forever. Keep the art theme going by stopping in at Greg's Pottery, where you can even paint your own earthenware to take home.
Still feeling crafty? Head over to Cornerstone Design and meet owner Tianna Dean. She'll introduce you to her husband's farmhouse table designs, and then invite you over to her candle-making counter where you too can become a chandler. After selecting your perfect scent from the dozen or so she stocks, you'll set the wick and pour the molten wax into stylish cups. Tianna and Mike Dean are just a few of the retired military couples who have chosen to make Fayetteville home, and they enthusiastically share their passion for their hometown throughout their home décor business.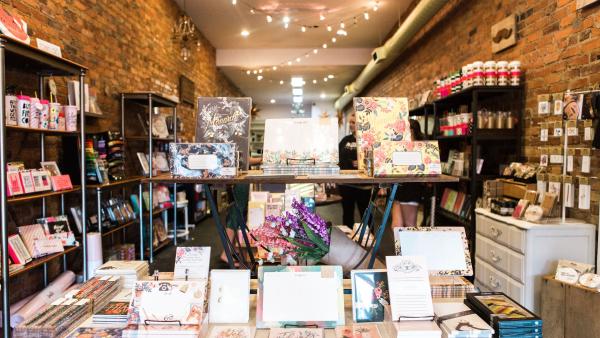 Pressed- A Creative Space 
You also might run into Ashley and Jon Thompson and Angela Santos at Pressed—a Creative Space, their boutique, which features locally made t-shirts, bags and wallets, greeting cards, and all manner of stylish items for the home. When Ashley and Angela's military husbands were in active service, they channeled their creative passion for design and décor into a business that also feeds positivity into town. Then after serving for seven years, Jon joined forces with his wife to make Pressed a family business.
In the mood to dress up a bit? Several salons enhance personal style. Look to Gullah Girl Boutique for colorful frocks, while Diane's Vintage Market displays handcrafted jewelry amid curated décor. White Trash & Colorful Accessories is plain fun with lots of irresistible whimsical decorations — in white. Over at A Bit of Carolina, you'll find more T-shirts as well as hundreds of items for your home, all themed to the Tar Heel State.
Be sure to take a break for caffeine or herbal tea at Winterbloom. This serene shop pours hot brews and sends wi-fi to your phones while you rest your tired feet. And you'll need the rest, as there are several emporiums of antiquities to explore, including The Cotton Exchange and The Livery, which feature vintage, primitive, and collectible furnishings, as well as Lodestone Art and Antiques, offering more than 30 different dealers under one roof.
Mealtime Happies
Planning the next meal is high on the list for girls' trips. It's all about anticipation. We want, we desire, and we just can't forget those memorable meals.
Grab a sidewalk table at Antonellas on Hay Street, and indulge in fine dining, Southern Italian style. Carefully prepared dishes can create a light and casual lunch – think Caprese salad with local tomatoes or flavorful bruschettas. At night, the daily features become more elaborate and satisfying, as is the Chianti. But don't miss the Lasagna Dip (everything but the pasta) that will have you headed back here for more.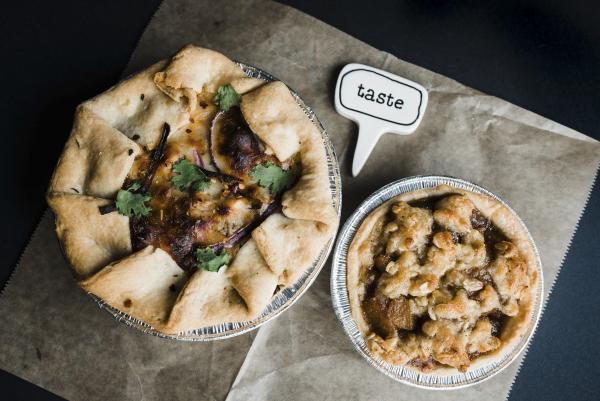 Fayetteville Pie Company Serves North Carolina's Top Pie. Each lunch special is sweet and savory
Join a local favorite at the Fayetteville Pie Company, an emporium for both savory and sweet pies for lunch. Leslie Pearson takes inspiration from her grandmother, who was a one-dish wonder. Leslie rotates 35 savory pies and 45 sweet ones, and they aren't the kind you bake at home. You might want to split the Fayetteville fave, the Pulled Pork and Sweet Potato wonder, that layers swoon-worthy 'cue atop creamy potatoes with fresh corn and barbecue sauce mixed in. That all sits atop the perfect flaky crust. And don't worry, they have sides of slaw and salads if you require something light.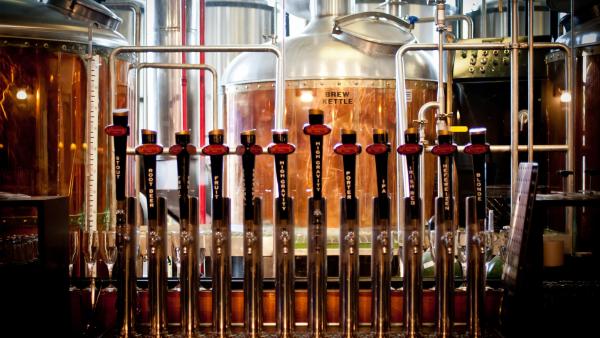 Mash House Restaurant & Brewery
When you crave a burger, steak, or taco, head over to the Mash House Restaurant and Brewery. This locally owned eatery caters to a wide variety of tastes, without feeling like the chain restaurants. Plus, you can try a variety of their house-made beer on a sampler platter without committing to a full one. All steaks are hand-cut, and the lemon pasta (meatless) is a vegetarian feast.
Chris's Steak and Seafood House is both a Fayetteville institution and realization of the American dream for owner Greg Kalevas (link to YouTube video). Established more than 50 years ago, its tradition has grown through the years with hand-cut steaks from an open hearth, the freshest seafood, and vast wine selection.
Feeling like flavors from around the world? Fayetteville can satisfy just about any cravings. Try the Cuban sandwiches and the ropa vieja at Habana Cuban, or opt for falafels and baklava at Pharoah's Village. When the Far East captures your appetite, order a steaming bowl of pho at Saigon Bistro, or nam sod at Prik Thai.
When downhome cooking gets your mouth watering at breakfast time, MaryBills Café & Elbow Room dishes up Southern classics, but with a lighter touch. Plus, they make sure you vegan/vegetarians don't go hungry either.
North Carolina is fast becoming the beer capital of the U.S., and Fayetteville is doing its share of making memorable brews. Downtown, drop by Lake Gaston Brewing Company, order an appetizer or two and a pint of what makes them famous. The craft food comes bite-size — think cauliflower bites and cheese curds — and the beer-loving staff can guide you towards your favorite beer type. The piece de resistance? There's plenty of al fresco tables on the sidewalk.

Lake Gaston Brewing Company in Downtown Fayetteville. 
At Dirtbag Ales, don't let the name fool you. It may be situated on five acres out in the country, yet it's a rather refined place. Yes, there's great beer here, but there's also live music on weekends and events such as food truck rallies on Thursdays and a farmers' markets on Sundays that includes a virtual shooting game among other activities. During their monthly Ladies Night events, the brewery takes in donations of feminine hygiene products to help the less fortunate. The brewery includes a dog park, a kids' park, a sports field, a stage, and a pavilion. It's kind of like a mini-town on the outskirts of the big town.
The Aahhs Have It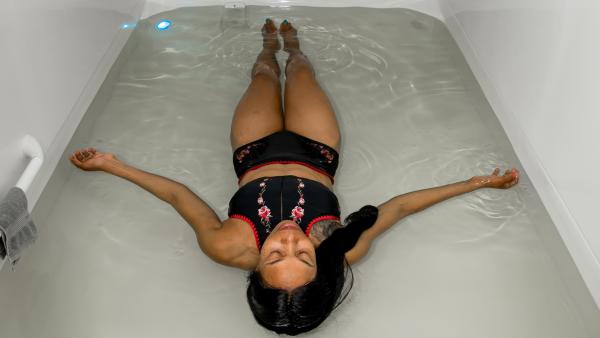 Floating Shanti
When you're good and worn out from finding all that wonder in Fayetteville, leave all your cares behind during an hour-long session in the water tank at Floating Shanti. This veteran-owned business provides an array of services, including massage and individual yoga, but most folks come to spend time in the tank. Warm salt water (think salt like the Dead Sea) and soothing lights cocoon you in comfort. You may pipe in your own music, or simply accept the calm and leave all stress behind.
Over by the mall, Embrace Yoga Studio welcomes visitors to a wide variety of classes on the mat. Two different rooms — one for hot yoga, the other traditional — hold hour-long sessions for beginner to advanced yogis. With a selection of six to eight different classes a day, you can find the kind of yoga (or introduction) you desire. And if you love Embrace Yoga, they also offer online sessions you can do when you get back home.
Fayetteville even entertains with a bit of high-brow performances. The city has its own symphony orchestra, which performs regularly during its September through May season. And Sweet Tea Shakespeare produces the best bard plays for all manner of audiences. No matter where you roam in Fayetteville, you'll be glad you came.
Join Our Email List
Sign up for our emails to get the latest news, personalized trip ideas, and special offers that fit your interests!