Make memories to last a lifetime on a family trip to Fayetteville in North Carolina's Sandhills region along Interstate 95. This destination packs plenty of R&R options that appeal to all ages, which means an ample supply of entertainment and leisure activities in a photo-worthy setting. You'll unpack lots of non-stop action for the kids, while adults discover chillaxing spots. Plus, Fayetteville offers up affordability with the benefit of no crowds in a comfortable small city setting.
Grow some budding tree lovers on a stroll through the Cape Fear Botanical Garden. You can enjoy a quiet walk alongside a reflective pond amid a sophisticated garden design, while your family skips merrily through the blooming green bowers. Butterflies and songbirds flit above native azaleas and oak leaf hydrangeas, while nearby in a sunny spot, the gardens nod to early Carolina settlements with herb and veggie plots nuzzling up to historic cabins.  For a longer outing, follow the tunnel made by shady hardwoods and pines along the Cape Fear River in this 80-acre tract, just a couple of miles from downtown. You just might see green ideas sprouting out of the youngsters.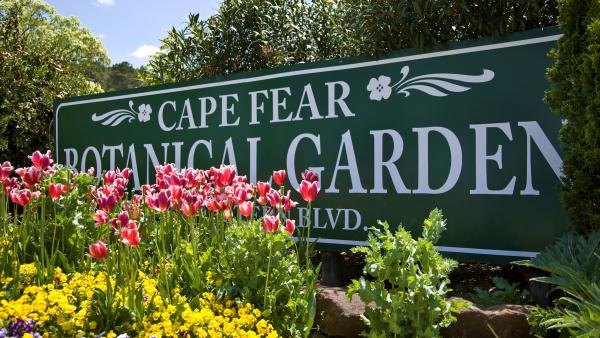 77-Acre Cape Fear Botanical Garden Offers 16 Specialty Gardens 
For those seeking less cultivated adventures, herd your brood over to Zip Quest, a 55-acre nature park where you can fly like an eagle. Zipline cables crisscross the forest and above the crashing water of Carver's Falls. The two-and-and half-hour routes cross 8 zips (including one that's 800 feet long), including 3 rope bridges. There's also the Swing Shot, a device that slings riders back and forth to seven stories high over the ravine and the waterfall. Spiral staircases follow tree trunks up to platforms for a birds-eye-view of the Sandhills only sizeable waterfall.
If you brought your bicycles—or simply want to go for an extended run or walk—head out the more than 5 miles of linear Cape Fear River Trail, a dog-friendly route. Keep an eye out for the natural denizens of the region—including deer, turtles, lizards, and more than 150 species of colorful birds. The route includes many boardwalks and bridges—including a covered bridge—all worth cataloging your trek.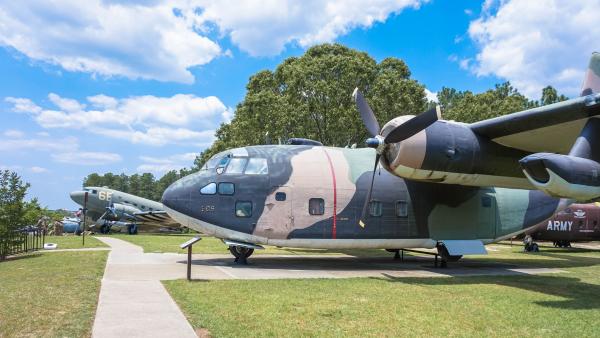 A Variety of Aircraft on Display on the Grounds of the 82nd Airborne Division War Memorial Museum
Fayetteville has just as much indoor adventure too. The Airborne & Special Operations Museum and the North Carolina Veterans Park are the must-see stops. Inside, the institution shows the history of Fort Liberty's paratroopers during US conflicts with displays and military equipment and films. It details the essential military jobs of the paratroopers during the great wars as well as during conflicts in Korea and Vietnam, and in the Middle East. The gardens surrounding the entrance to the museum hosts two fine military statues; The 16-foot-tall Iron Mike personifies the steely nature of the brave and tough veterans. Nearby, under a shady tree, rests a much smaller piece that pays tribute to the dogs who've served. If this whets your broods' appetites for military history, journey on to Fort Liberty to learn more at the 82nd Airborne Division War Memorial Museum and the JFK Special Warfare Museum. Both are open to the public.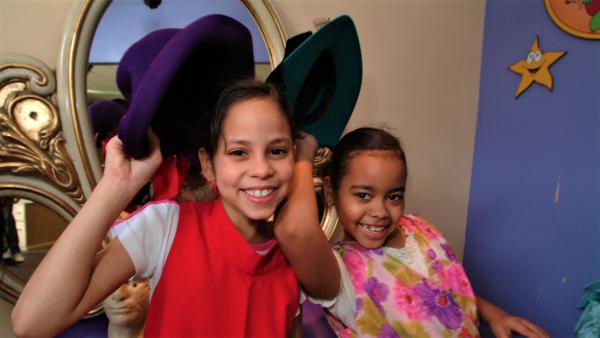 Fascinate-U Children's Museum
Burn down some of your family's energy candles while scaling the walls at one of the indoor climbing walls. Kids develop more confidence while making like Spidey-Man at the Climbing Place and Red Point Crossfit and Indoor Climbing. Or maybe it feels like your kiddos like to bounce off walls? Then take them for an hour session at Surge Trampoline park to jump their cares away.
As you drive around town, you'll notice the preponderance of train tracks. Railroads help to build this town. For a quieter exploration, introduce your family to the regions past at the 1890's depot, home to the Fayetteville Area Transportation & Local History Museum. In addition to model train rooms, it holds life-size buggies, firetrucks, and a fleet of vintage cars.  If you happen to visit on the first or third Saturdays of the month, the Cape Fear Model Railroad Club lays down tracks at the Fascinate-U Children's Museum.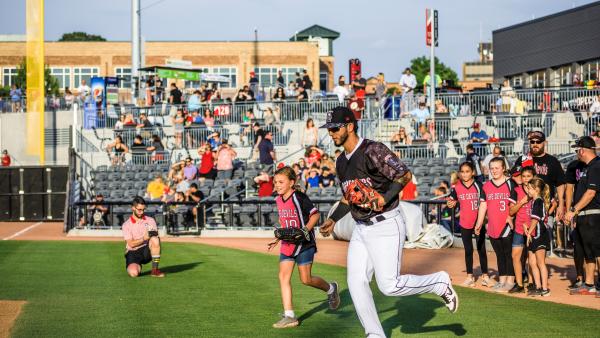 The Fayetteville Woodpeckers are a Houston Astros Class-A Affiliate Team
Take the family out to one of the finest new baseball parks anywhere. The Segra Stadium lights up downtown's skyline while hosting the Fayetteville Woodpeckers, a Class A Houston Astro team. This little park packs in all the fun of the major leagues, yet its smaller format makes it friendly without the bigtime hassle. Brats and brews, popcorn and peanuts, an outfield bar, and a children's play area and grassy hillside for family picnics welcome America's pastime. And typically, before the seventh-inning stretch, railroad cars rumble down the adjacent tracks and toot their horn into the stadium. The best part of a Woodpeckers' game? The seats are so close to the playing field that you can hear the players chattering in between pitches and the balls whizzing by.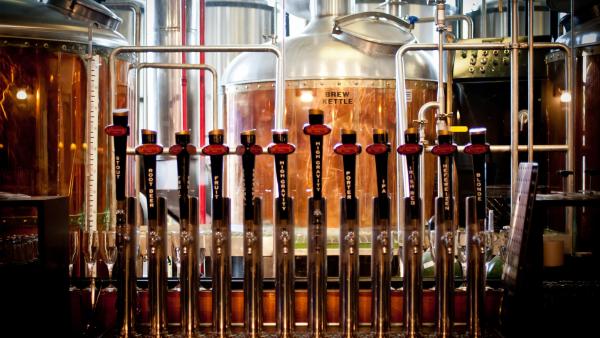 The Mash House Restaurant and Brewery features award-winning local brews
At some point in your Fayetteville journey, your family is going to get hungry. Forget the limitations of most small cities; this town dishes up menus from around the world. Like Thai or Italian? Chinese or Tacos? Fayetteville's got your dinner. Sure, there's plenty of excellent pizza (don't miss Brooklyn Pizza near Fort Liberty), but sometimes the grownups prefer to celebrate the evening. When that's the case, take your crew to the Mash House Restaurant & Brewery, a brewery that's family-friendly with flat breads and pizzas, burgers and tacos, as well as hand-cut steaks.
When family dining fits the appetites, head out to Fred Chason's Grandsons Restaurant in Hope Mills. Wear your elastic waist pants to this family-owned, all-you-can-eat country buffet. You'll dig into tender and smoky 'cue, plenty of corn, beans, and sliced tomatoes, and never-empty glasses of icy sweet tea.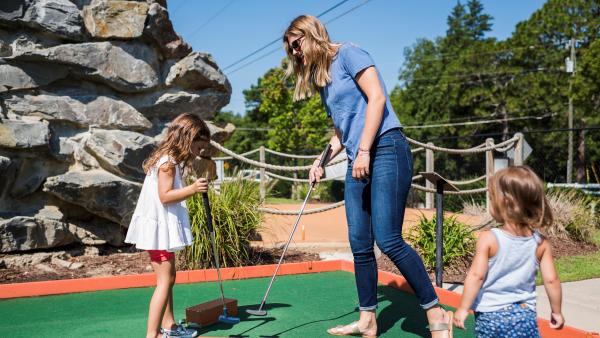 Putt-Putt Golf & Games features golf, laser tag, go-karts, bumper boats, and a full arcade
Skip dessert and challenge your miniature Tiger Woods and Lexi Thompsons to a round of mini-golf. The winner gets to choose the ice cream! Three different courses attract pint-size putters: Mountasia Golf in Fayetteville, and Putt-Putt Golf and Fun-Fun-Fun in Hope Mills.
After a day of Fayetteville family fun, you need a comfy place to lay down all those sleepy heads. Opt for bigger overnight rooms at one of the local suites hotels. These specialize in family-friendly rooms that provide sleeping and living areas. We're sure you'll get a good night's sleep.
Join Our Email List
Sign up for our emails to get the latest news, personalized trip ideas, and special offers that fit your interests!